Ahmed, Justice Shahabuddin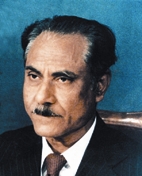 Ahmed, Justice Shahabuddin President of Bangladesh. Shahabuddin Ahmed was born on 1 February 1930 at village Pemal under Kendua thana of Netrakona district. His father Talukdar Resat Ahmed Bhuiyan was a renowned social worker and philanthropist. Shahabuddin Ahmed obtained the degree of BA (Hons) in Economics in 1951 and MA in International Relations in 1952 from Dhaka University. He entered the Civil Service of Pakistan (CSP) in 1954 through a competitive examination, successfully completed training at the Lahore Civil Service Academy and attended a special course on Public Administration in the University of Oxford.
After serving for sometime as a magistrate and then as sub-divisional officer of Gopalganj and Natore, Shahabuddin Ahmed was promoted to the post of additional deputy commissioner. He was transferred to the judicial branch in June 1960 thus ending his career in the executive branch of administration. He served as additional district and sessions judge in Dhaka and Barisal and as district and sessions judge of Comilla and Chittagong. In 1967, Ahmed was appointed Registrar of the Dhaka High Court.
He was elevated to the bench as a judge of the High Court of Bangladesh on 20 January 1972. On deputation he served as chairman of the Labour Appellate Tribunal (1973-74). Thereafter he returned to the High Court Division as a judge.
Shahabuddin Ahmed was appointed a judge of the Appellate Division of the Supreme Court of Bangladesh on 7 February 1980. A great number of his verdicts have been reported in the Dhaka Law Reports, Bangladesh Legal Decisions and Bangladesh Case Reports. Some of his judgements on service matters, election disputes and labour-management relations have been highly appreciated. His verdict on the 8th Amendment of the Constitution of Bangladesh was hailed as a landmark in the constitutional development of the country. Here, among other things, he criticised the tendency of the Third World dictatorships to abrogate the constitutions for self-aggrandisement and coterie-rule under the thin veneer of democracy, for curtailing fundamental human rights, violation of human rights, challenge to people's sovereignty, denial of the independence of the judiciary, and substituting rule by fiat in place of rule of law. He also deplored the curtailing of the traditional powers of the High Court in matters like appointment, promotion, transfer, leave and control of subordinate judiciary by the executive branch of the state.
Justice Shahabuddin was the chairman of the Commission of Enquiry constituted to enquire into the causes of police firing on the agitating students of Dhaka University in mid-February of 1983 causing death of several students and injury to many more. But his report submitted after extensive enquiry was never made public by the then government. He was chairman of the National Pay Commission in 1984 when upward revision of pay-scales was made on the basis of his report. He served as chairman of Bangladesh Red Cross Society from August 1978 to April 1982. He attended the International Appellate Judge's Conference held in Washington DC in September 1990.
Shahabuddin Ahmed was appointed Chief Justice of Bangladesh on 14 January 1990. A peaceful revolution took place in the country in early December 1990 following public agitation led by opposition political parties for changing the autocratic system of government and for resignation of the government headed by President H M Ershad. Consequently on 6 December 1990 the then Vice-President Moudud Ahmed resigned and Chief Justice Shahabuddin was appointed Vice-President. On that very day H M Ershad resigned and handed over power to Shahabuddin Ahmed who became the head of the government as acting President of the country. He formed a caretaker government with neutral non-political persons and held a free and fair election in the country in February 1991. During this period, he gave back freedom of the press by amending a number of law including the Special Powers Act. Thereafter on the election and entering into office of the new President, Shahabuddin Ahmed resumed his duties on 10 October 1991 as the Chief Justice from which office he retired on 1 February 1995.
Justice Shahabuddin was elected the President of the country unopposed on 23 July 1996 having been nominated by the Awami League government. He was sworn-in as the President on 9 October 1996. Although a mere figurehead in a parliamentary form of government, he earned the love, respect and admiration of all segments of population of Bangladesh due to his neutral and conscientious role in all state affairs during the five years of his Presidency. He retired from the Presidency on 14 November 2001. [Kazi Ebadul Hoque and Helal Uddin Ahmed]