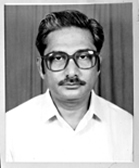 Ahmed, Kazi Habibuddin (1947-2007) businessman, one of the entrepreneurs of the installation of swadhin bangla betar kendra. He was born on 19 June 1947 at Jhautala in Kolkata. His paternal home was at village Cheora in Comilla district. His father Kazi Ghiasuddin Ahmed was an industrialist and his mother was Kazi Badruzzahan. Habibuddin had his early education at Sylhet town where his father had his business centre. He passed SSC examination from Pogose School of Dhaka in 1964 and then got himself admitted in Dhaka Music College. He was associated with the Students Union in his student life.
Kazi Habibuddin was in Chittagong in March 1971 engaged in some business affairs. With the beginning of the War of Liberation, he upon the request of Abdullah al-Faruq, the programme producer of Chittagong Radio, joined the venture for installation of Swadhin Bangla Betar Kendra. He was in charge of the programme section of the Betar Kendra up to 16 December 1971. After the liberation, he worked in the Bangladesh Betar as programme organiser for some time before taking over the responsibility of conducting his own industrial concern, the Kazi Textile in Chittagong.
The Muktijoddha Sangsad Kendriya Command Council honoured Kazi Habibuddin Ahmed with the 'Shabda Sainik Medal' in 1990. The Chittagong City Corporation awarded felicitation to Kazi Habibuddin on 16 December 1994 along with other personnels of Swadhin Bangla Betar Kendra.
He died in Dhaka on 29 December 2007. [Shajahan Faruq]