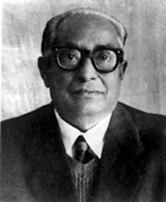 Ahmed, Momtaz Uddin (1903-1971) philosopher and educationist. Momtaz Uddin Ahmed was born on 24 December1903 in Brahmanbaria, where he had his early education. He studied in dhaka university and obtained a BA (Honours) and an MA in Philosophy in 1926 and 1927 respectively. He obtained the PhD degree from the University of London in 1937.
Momtaz Uddin Ahmed began his teaching career as a Lecturer in Dhaka University and worked his way up to become the Head of the Department of Philosophy. He left the University in 1939 to become the first Muslim Principal of dhaka college. He continued in that position until he was made the Principal of rajshahi college in 1945. He served the College till 1950, when he moved to Dhaka as Assistant Director of Public Instructions. He was elevated in 1952 to the position of the Director of Public Instructions of East Pakistan. In 1956 he was appointed Education Adviser to the Government of Pakistan. He was appointed the Vice Chancellor of rajshahi university in 1957. As the second Vice Chancellor of the University (1957-1965), he virtually built it and made it a distinguished institution of higher learning. In appreciation of his contribution the University has named its Arts Building  Momtazuddin Kala Bhaban.  
Ahmed has also served his country in various other capacities. He was a member of the Commission on National Education in 1958 and was also a member of the Pakistan Commission on Students' Welfare formed in 1965. He was made a member of the Board of Trustees of the Pakistan National Press Trust in 1964. He was also a member of the Board of Governors of the Central Institute of Islamic Research and a member of the Central Board for the Development of Bengali in 1968. He was appointed the President of the Inter-University Board in erstwhile Pakistan in 1965. He was elected the President of the Eighth Congress of the Pakistan Philosophical Society, held in Karachi in 1965. He was later elected the President of the Pakistan Philosophical Congress in 1968 -a position which he held until his death. He continued to serve the cause of higher learning as a member of the Dhaka University Syndicate and of the Islamabad University Senate late in his life.
Momtaz Uddin Ahmed represented the Government of Pakistan in many international conferences, including the UNESCO General Conference in New Delhi in 1957 where he was elected a member of the Executive Board of UNESCO. He also attended the International Conference on Education in Geneva in 1956. He died in Dhaka on 12 September 1971. [Masuda Ahmed]