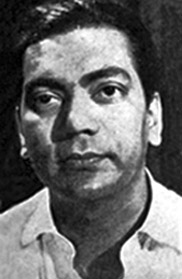 Ahmed, Nazir (1925-1990) film-maker, broadcaster, writer. He was born in Dhaka in 1925. His father, Mirza Faqir Mohammad, was a businessman who practised literature and music during his leisure. Nazir Ahmed studied in Hammadia Madrasa in Dhaka and passed the Entrance Examination (1938) from Dhaka Collegiate School, ISc (1942) from Jagannath College, and BSc from Dhaka University. He took part in various functions, especially plays, at school and college.
In 1939 he joined the newly established Dhaka Centre of All India Radio as an artiste and took part in various programmes. In 1942, he joined the Calcutta Radio Centre as its first Muslim announcer. In 1946 he returned to Dhaka Radio Centre and worked as a producer, scriptwriter and presenter of various programmes. He also wrote plays, songs, and poems. The song, 'Pakistan Zindabad' (Long live Pakistan), composed by him, was recognized as an alternative national anthem and sung in schools in East Pakistan before the introduction of Pakistan's present national anthem, 'Pak Sar Zamin'. He joined the British Broadcasting Corporation (BBC) in 1949 and introduced the first Bangla programme, Anjuman.
After returning to Dhaka in 1953, he joined the Public Relations Department of East Bengal as chief of the film division and was responsible for establishing Dhaka's first film studio and laboratory in 1955. He produced a number of documentaries including Chaka (The Wheel), Karnafuli, Purba Pakistaner Prabeshpath (Gateway to East Pakistan).
In 1957 he was appointed the first executive director of the newly established East Pakistan Film Development Corporation. He was the storywriter of fateh lohani's film Asiya (1960), director of Nabarun (1960), a documentary, and Natun Diganta, a full-length feature film. In 1962 he left Dhaka and lived for a while in Germany, West Pakistan and the UK. He worked for the BBC for two years (1965-67) and then started a publication enterprise. The plays he acted in include both stage plays such as Chandragupta, Sajahan, Sirajuddaula, Tatinir Bichar, Nursing Home, Tipu Sultan and radio plays such as Ali Baba, Beder Meye, Chengis Khan, Antony and Cleopatra, Oedipus Rex, Antigone, Tempest etc. He wrote the popular play Chengis Khan. He received the Bangladesh Cine Journalist Association Award (1983). He died on 1 February, 1990 in London. [Anupam Hayat]