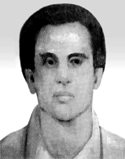 Ahmed, Rafiq Uddin (1926-1952) a language martyr. Rafiq Uddin Ahmed was born on 30 October 1926 at village Paril in Singair upazila of Manikganj district. He matriculated from Baira School in 1949. While a student of Intermediate class at Devendra College in Manikganj he discontinued his studies and moved to Dhaka. There he worked in his father's commercial printing business.
On 21 February 1952, a general strike was called and a mass demonstration staged in Dhaka demanding recognition of Bangla as one of the state languages of Pakistan. The government imposed ban on public gatherings in Dhaka under Section 144 of the Criminal Procedure Code. But students and people from all walks of life defied Section 144 and participated in a demonstration. The police opened fire on the demonstration in the premises of Dhaka Medical College Hostel.
Rafiq Uddin joined the demonstration and was shot dead. The police took his body to the morgue of Medical College Hospital. He was buried in Azimpur graveyard at 3 am under an army guard.
In recognition of his sacrifice during the language movement, Rafiq Uddin Ahmed was awarded Ekushey Padak posthumously in February 2000. [ASM Rafiqul Akbar]