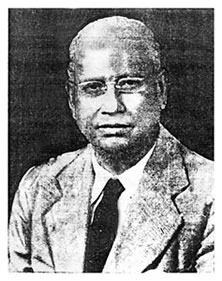 Ahmed, Rafiuddin (1890-1965) dentist and politician, popularly known as Dr R Ahmed. Born 24 December 1890 at village Bardhanpara in Nawabganj upazila of Dhaka district. Rafiuddin had his school education at Nawabganj and passed ISc from Aligarh Mohammedan Anglo-Oriental College. At this time he lost his father and his further education was interrupted. He took a job on a ship and went first to London and then to the United States, where he got admission in the Iowa Dental College. After completion of courses there, he returned to Kolkata and started career as a dentist.
Dr R Ahmed was an active social worker and organizer. In 1924, he established Kolkata Dental College and Hospital without any government assistance. A major source of expenses of the hospital was the income from a modern ice-cream parlor established by Dr Ahmed in Kolkata. He was the founder editor of the Indian Dental Journal and president of the Indian Dental Association.
Rafiuddin Ahmed was elected a member of the Kolkata City Corporation and was also elected Alderman of the corporation for two terms. He was one of the main founding organizers of the Association for Hindu-Muslim Unity formed in 1936. He was the secretary of the bengal provincial muslim league during 1928-1936. Later, Dr. Ahmed joined the Congress. After partition of India in 1947, he continued his political career as a Congressite and was elected to the West Bengal Legislative Assembly. He was a minister in the cabinet under Dr. bidhan chandra roy.
Dr R Ahmed was awarded the title of Padmabhushan in 1964 for his outstanding performance in professional and social work. He died on 9 February 1965. In recognition of his contribution, the Kolkata Dental College and Hospital was named after Dr R Ahmed. [Shamsuzzaman]