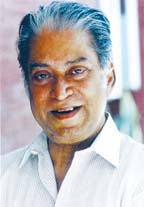 Ahmed, Sayeed (1931-2010) playwright, art critic, civil servant, was born in Islampur of old Dhaka on 1 January 1931. His father was Mirza F Mohammad and mother Mrs. Jamila Khatun.
Sayeed Ahmed did his post graduation from the University of Dhaka in International Relations in 1954 and obtained another post graduation degree in 1956 from London School of Economics (LSE). He had served the government of Bangladesh as a career bureaucrat.
Sayeed Ahmed had aptitude in culture of classical music. While a student of Dhaka University (1950) he was so influenced by modern music that he formed a troupe named 'Sayeed Ahmed O Sampraday'. The troupe performed a series of orchestra programmes in Dhaka Radio. Poet shamsur rahman was the script writer and Sayeed Ahmed was the director of the programme respectively. While a student of the LSE in 1954, Sayeed started to learn western music. He also joined BBC Radio as a part-time musician and used to play sitar in the orchestra for its Urdu, Bangla, West Bengal and Sri Lanka services. He got opportunities to take part in these orchestra with a number of veteran western musicians.  
Sayeed Ahmed, a civil servant, was transferred to Lahore in 1956, where he met Miss Perveen, an art historian and social activist from Punjab, and married her. Perveen's mother Meherunnesa was from Lucknow. After marriage, Sayeed started writing of absurd plays. This new theatrical trend was initiated in Europe in the 1950s. In this regard, Sayeed Ahmed may be considered as the pioneer of the absurd drama in Bangla theatre. He wrote The Thing (1961-62) (Kalbela in Bangla), the Milepost (1962-64) and Survival (1964-66) (Trisnay in Bangla). Later on, he wrote two other absurd plays in Bangla Ekdin Protidin (1974) and Shesh Nawab (1982). His dramas were translated in French, German, Italian, Urdu and Punjabi languages. With the publication of his books on fine art, he emerged as a distinctive art critic. The works include Art in Bangladesh (1976), Five Painters of Bangladesh (1979), Contemporary Art (1980) and Contemporary Graphic Art of Bangladesh (1996). Sayeed Ahmed delivered a number of lectures on these topics before specialized gatherings from 1965 to1994 in several foreign countries.'
Sayeed Ahmed initiated the presentation of a famous series programme in Bangladesh Television (BTV) in 1982 styled as 'Bixwa Natok' or world Drama. Through this programme he used to introduce the world's leading playwrights in each episode before staging the play in Bangla. The series earned immense popularity for him. But he discontinued the programme while he was appointed as the Director General of BTV. After his retirement of Government service in 1987 BTV started the production and telecast of the 'Biswa Natok' series again. The programme went on air twice a week. A total of 71 dramas written mainly by novel laureates and leading playwrights of America, Europe, Latin America, Africa and Asia were included in this series.
Sayeed Ahmed served as a guest lecturer at Georgetown University, American University and Catholic University of the United States in 1976 while working in the International Monetary Fund. He also worked as a part-time teacher in the Department of Music and Dramatic Arts at Dhaka University. His other publications include Bangladesher Sursrostara (2003), Jibener Sat Rang (2007) and Dhaka Amar Dhaka (2010).
In recognition of his contributions to Bangla drama, Sayeed Ahmed was awarded Bangla Academy Award (1975), Ligeon de Honor by the French Government (1993), Chandravati Gold Medal (2008), Abdul Jabbar Khan Gold Medal (1995), Lokanatyadal Padak (1996), and Ekushey Padak (2010). He died on 21 January 2010. [Abu Sufian' Kabir]