Ahmed, Noazesh (1935-2009) plant genetic scientist, freelance photo artist. Noazesh Ahmed was born on 1 February 1935 in a zamindar family of Paril Nowadha in Singair thana of Manikganj district. His father was Khan Bahadur Najibuddin Ahmed. Noazesh Ahmed passed his matriculation examination in 1950 from Manikganj Victoria High School, ISc in 1952, and obtained his BA degree in 1954 from East Bengal Agricultural Institute, Dhaka (now Sher-e-Bangla Agricultural University).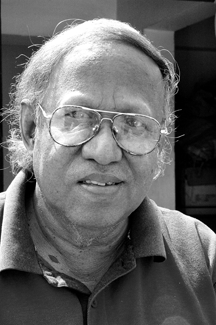 He went to USA with a Fulbright scholarship for higher studies, and got his PhD degree in 1960 from the Wisconsin University for his research on Plant Genetics. On completion of his post doctoral fellowship from the American Foundation for Biography Research, Dr Noazesh returned home in 1960 and joined as Research Adviser at Duncan Brothers Tea Estate. At this stage, he devoted himself in research on quality of tea for a couple of years in the tea gardens of different South Asian countries. Soon afterwards, he was appointed as the member-secretary of Pakistan Tea Board.
Since 1979, Noazesh Ahmed as a scientist did consultancy work for several International agencies, such as Asian Development Bank (ADB), Food and Agriculture Organisation (FAO) of United Nations in the Southeast Asian countries. He was a visiting faculty in the Asian Institute of Technology.
Noazesh Ahmed was an internationally renowned photographer. The main theme of his PHOTOGRAPHY was nature, especially the flora. While studying plant genetics in the Wisconsin University, his participation at the Portrait of America Exhibition 1957-58, organised jointly by the US Department of State and Lifetime Magazine, brought him recognition as a photographer. His photographs were displayed in the photographic exhibitions held in different countries of the world including United States of America, Europe and Asia, and were published in many globally reputed newspapers and magazines like the Sunday Times, The Guardian, Focus, Bangkok Post, Hemisphere, Illustrated Weekly of India, Far Eastern Economic Review, etc. Noazesh Ahmed had also used photographs for creating awareness on the War of Liberation amongst the foreigners. Soon after the beginning of War in 1971 he gave up his post in the Pakistan Tea Board and escaped to London, and actively participated in the movements of the Bangali expatriates for the Liberation War. Subsequently he migrated to US and took part in the awareness generating programmes through exhibition of photos and slide shows on the War of Liberation. He left US and returned home in 1973.
In the first national photography exhibition of Bangladesh sponsored by and arranged in Shilpakala Academy in 1978, Noazesh Ahmed was awarded the Shilpakala Academy Award (1978) for the potentiality and excellence of his photographs. In 1996, an exhibition of his photographs was arranged in the Shilpakala Academy under the banner and title of Bastaber Anvesa (quest of reality). Another exhibition of his photographs titled Samanvayer Sandhane (in search of synthesis) was arranged in Bengal Gallery in June 2005.
Dr Noazesh is one of the pioneers in initiating in Bangladesh the trend of making creative photography exclusively on nature. His first multi-coloured photo-album titled Bangladesh was published in 1975. The book was a tri-lingual (English, French and German) venture with striking images of Bangladesh life and landscape. British Geographical Society appreciated the album and termed it as 'Book of the Year'. Among his other notable photo-albums are Portrait of Bangladesh (1982), Burma (1990), Bastaber Anvesa (1996), Quest for Reality (1997), Wild Flowers of Bangladesh (1998), Gautam (on life of the Buddhist monks), Bamglar Banaphool (2001), Chhinna-patra (2002), Dhansidi Naditir Pashe (2004). He prepared a slide sound programme of one hour duration on the life-style of the Buddhist monks of Laos and Thailand. He produced a film on the Buddhist chaitya and statue, video slides on Chhinna-patra of Rabindranath Tagore and Dhansirhi Naditir Pashe of Jibanananda Das, which were exhibited in Kolkata, Shantiniketan and in Dhaka.
As a writer, Noazesh Ahmed made outstanding contribution in the field of Agriculture. His book titled Development of Agriculture of Bangladesh, published in 1975, is indicative of a guideline towards the development of agriculture in Bangladesh. For this book and for his extensive research on agriculture, Noazesh Ahmed was awarded the President Gold Medal in 1978. His other books are Ban Banani (1991) Mahabanaspatir Padavali, Ahata Kokil. Apart from his research articles on agriculture he contributed a lot of articles especially on flora in the newspapers and journals. Noazesh Ahmed was a consulting editor for the Banglapedia: the National Encyclopedia of Bangladesh, published in 2003.
A life-long bachelor Noazesh Ahmed was simultaneously a scientist and an artist. As a creative photo-artist, Noazesh Ahmed explores nature in colourful forms and poignant expressions, more like a painter than a photographer.
He died in Dhaka on 24 November 2009. [Muazzam Hussain Khan]