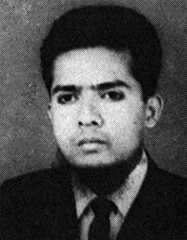 Ali, Sarafat (1943-1971) educationist, martyr intellectual. He was born on 1 July 1943 at village Dakshin Rampur under Sadar thana of Comilla district. His father was Ali Azam, and his mother Rajjabennesa.
Sharafat Ali passed matriculation examination in 1960 from Comilla Victoria Collegiate School, Intermediate of Science from Comilla Victoria College in 1962 and got BSc degree in 1964 from the same college. He obtained MSc degree in Mathmatics in 1967 from Dhaka University. He was awarded Chancellor's gold medal for his outstanding result.
Sharafat Ali started his professional career as a Lecturer of Mathematics in Dhaka University in 1968. He became Assistant House Tutor of Dhaka Hall (now Shahidullah Hall) in 1970.
Sarafat Ali took active part in the nationalist movements including mass upsurge of 1969. Sharafat Ali was killed by the Pakistan army on the night of 25 March 1971 at the teachers residential area of Dhaka University.    
[Abu Md. Delwar Hossain]