Amin, Birsrestha Mohammad Ruhul
Amin, Birsrestha Mohammad Ruhul (1935-1971) He was born in June 1935 at village Baghchapra in Begumganj thana of Feni district. His father was Mohammad Azhar Patwary and mother Zolekha Khatoon. Ruhul Amin began his education in a village maktab and later in Baghchapra Primary School and then studied in Amisha Para High School. In 1953 he joined the Navy as a junior mechanical engineer and was sent for training to Manora Island near Karachi on PNS Karsaaj (a technical school for the Navy). He successfully completed his professional training in 1958, and in 1965 was selected for the mechanical course. On completion of the course, Ruhul Amin was posted as Engine Room Artificer. In 1968 he was transferred to PNS Bakhtiar Naval Base in Chittagong.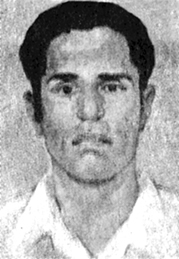 With the beginning of the War of Liberation in 1971 Ruhul Amin decided to join the war, crossed over to Tripura in April and joined Sector 2. He fought a number of battles till September.
In September 1971 with the object of setting up the Bangladesh Navy, all members from the Navy were assembled in Agartala and the initial structure of the naval force for Bangladesh was formed. They were then carried to Calcutta along with Ruhul Amin. The Indian government presented two tugboats to Bangladesh Navy. These were transformed into gunboats by attaching buffer gun and mine pod at the Calcutta Gardenreech Naval workshop. The two gunboats were named as 'Padma' and 'Palash'. Ruhul Amin was posted as Engine Room Artificer of Palash.
On 6 December, Padma' Palash and the gunboat Panvel of the allied forces began their journey from Haldia Naval Base, India, with the intention of capturing the Pakistan Naval Base PNS Titumir in Mongla Port. On 8 December they were joined by BSF patrol craft 'Chitrangada' from Arai Banki in the Sundarbans. They entered the Heron Point without any resistance on 9 December. In the morning of 10 December they started for the Mongla Port and reached there at 7:00 am. The patrol craft Chitrangada took position at Mongla, and Panvel, Padma and Palash began to move forward. By 2:00 pm they were close to Khulna Shipyard. At that time three fighter aircrafts were spotted high in the sky. When the soldiers in Padma and Palash sought permission to shoot at the aircrafts, the commander of the naval crafts informed that these were Indian aircrafts. The three aircrafts unexpectedly began bombing over Padma and Palash. The commander of the Palash ordered every one to leave the gunboat. But Ruhul Amin stayed back in Palash and tried his best to keep the gunboat active. Suddenly a bomb fell on the engine room of Palash and it was completely destroyed. Ruhul Amin jumped into the sea and with injury somehow managed to reach the shore. Unfortunately, Pakistani soldiers and some razakars who were waiting there, brutally tortured and killed him. His body could not be recovered.
Ruhul Amin was awarded the highest state insignia of Birsrestha by the Bangladesh Government in recognition of his valour and sacrifice in the War of Liberation. [Qazi Sajjad Ali Zahir]