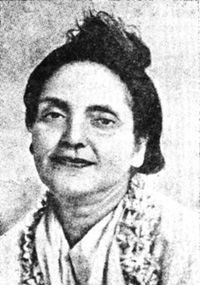 Anandamayi, Ma (1896-1982) an ascetic. She was born in the village of Kheora in the district of brahmanbaria on 30 April 1896. Her real name was Nirmala Sundari. Anandamayi was her axhram name. Her father, Bipinbihari Bhattacharya, who hailed from Vidyakut in Tripura, also lived an ascetic life as Muktananda Giri. Her father's example might have inspired her, because she is said to have experienced the presence of divine power in her since childhood and went into a trance on hearing kirtans. She was also known as Dakshayani, Kamala and Vimala.
Anandamayi had no formal education. She was married to Ramani Mohan Chakrabarti of vikramapura in 1908. Her husband also took to ascetic life and came to be known as Bholanath. In 1924, Nirmala accompanied her husband to shahbag where he had been appointed caretaker of the gardens of the Nawab of dhaka. She then set up a Kali Temple (1926) in the Siddheshwari area and devoted herself to religious devotion.
Ma Anandamayi underwent a mystic experience while praying in the temple one day and emerged as Nirmala Anandamayi. Henceforth, she became known as Anandamayi Ma, or Mother Anandamayi. She set up an ashram at Ramna within the precinct of Kali Mandir.
Her spiritualism attracted many scholars, including Mahamahopadhyay gopinath kaviraj and the physician Triguna Sen. The famous dance artiste uday shankar was impressed by her analysis of dance which she used as a metaphor to define the relationship between human beings and God.
Anandamayi went to Dehradun with her husband in 1932 and built an ashram there. She traveled across the subcontinent to make people spiritually enlightened. One of her achievements is her revival of Naimisharanya as a place of pilgrimage. She set up a temple there and arranged for the recitation of holy names and the performance of kirtan and other religious rites.
She renovated many dilapidated holy places and built many new ones. Several ashrams, seats of learning, hospitals etc. were established in her name at Ramna and Kheora in Bangladesh and Benares, Kankhal and other areas in India. There are now around 25 such ashrams named after her. The most important saying of Anandamayi is 'God owns the world and man is only expected to carry on his duties in the condition he is in'.
She died on 27 August 1982 and was buried on the banks of the Ganges near the Kankhal Ashram in Haridwar in North India. [Monoranjan Ghosh]