Ansar-VDP Academy the apex training institute of ansar and village defence party (VDP). It is situated at Shafipur in Gazipur district at a site on the Dhaka-Tangail highway.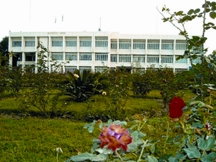 Ansar Bahini was raised on 12 February 1948 and since then it had its training centre at Shahbagh in Dhaka. After the liberation of Bangladesh this force has been reorganized in 1973 and had its training programs at Savar up to 1975. The Village Defence Party (VDP) and Town Defence Party (TDP) have been raised on 1976 and 1980 respectively. The two forces were subsequently integrated with the Ansars. National Ansar Training Centre (NATC) was set up at Shafipur under Kaliakair upazilla of Gazipur District. It was named as Ansar Training School in 1983 and was elevated to Ansar Academy in 1986. It turns to Ansar-VDP academy in 1995.
The cardinal training courses held in the academy are as follows: officers' basic course, skill development, promotion cadre and refreshers for staff, battalion Ansar, VDP leaders male and female and Ansar commander. The courses cover drill, discipline, weapon training, field craft, tactics, government services rules and regulations, office management, socio-economic development etc. Skill development training in different trades are arranged for capable and enthusiastic members of the organisation.  
Moreover, courses on unconventional warfare, women empowerment and development, reproductive health and right, prevention of women and child trafficking etc are held in the academy.
Different sports camps have been tented here for intensive training and rigorous practice in a cohesive and conducive environment in the Academy. This programme facilitates the players to win their laurels for the organisation as a result of which Ansar and VDP was awarded Independence Day Award in Sports for 2004.
The academy is adorned with a big parade ground having a length of 600ft and width 400ft. Parade ground was named after Platoon Commander Ead Ali, a valiant freedom fighter who offered first guard of honour to the Mujibnagar Government on 17 April 1971. A 45-feet high monument has been erected to commemorate the supreme sacrifice of 9 officers, and 635 platoon officers and ansars.
Ansar Academy is pledged to qualitative training to achieving social security and socio-economic development. [M Wajiullah]