Ashuganj Upazila (brahmanbaria district) area 67.59 sq km, located in between 23°51' and 24°06' north latitudes and in between 90°53' and 91°19' east longitudes. It is bounded by sarail upazila of brahmanbaria district on the north, nabinagar upazila on the south, brahmanbaria sadar upazil on the east, bhairab upazila of kishoreganj district and raipura upazila of narsingdi district on the west. Ashuganj is called the daughter of the river meghna. It is a notable river port and industrial city of Bangladesh.
Population Total 145828; male 74191, female 71637; Muslim 140119, Hindu 5593, Buddhist 29 and others 87.
Water bodies Main river: Meghna.
Administration Ashuganj Thana was formed in 1984 and it was turned into an upazila on 25 July 2000.
Upazila
Municipality
Union
Mouza
Village
Population
Density (per sq km)
Literacy rate (%)
Urban
Rural
Urban
Rural

-

8

30

38

30677

115151

2158

49.59

45.33
Upazila Town

Area (sq km)

Mouza

Population

Density (per sq km)

Literacy rate (%)

8.99

4

30677

1999

49.59
Union
Name of union and GO code
Area (acre)
Population
Literacy rate (%)
Male
Female

Araisidha 12

1469

7740

7742

47.18

Ashuganj 14

2799

16054

14228

50.06

Char Chartala 26

1572

12500

11055

56.35

Tarua

1603

4353

5081

38.77

Durgapur 38

3038

13691

13140

45.64

Paschim Talshahor 74

2813

8971

8983

38.25

Lalpur 42

1818

7069

7132

35.45

Sharifpur 77

1590

3813

4276

41.13
Source Bangladesh Population Census 2001, Bangladesh Bureau of Statistics.
Archaeological heritage and relic Ashuganj Tahsil Office (1904).
History of the War of Liberation On 14 April 1971 freedom fighters Abul Hossain, Shahjahan, Lance Nayekk A Hai, Subedar Sirajul Islam and Sepahi Abdur Rahman were killed in an encounter with Pak army. During the War of Liberation the Pak army used to torture and kill suspected Bangalis at a slaughter place near Ashuganj Silo. On 9 December 1971 the Pak army destroyed part of Ashuganj-Bhairab railway bridge on the Ashuganj side by dynamite explosion. On the assumption that the Pak army left Ashuganj after destroying railway bridge the allied forces advanced towards Ashuganj to occupy it. As soon as they reached within 50 yards of Asuganj Thermal Power Plant the Pak army launched heavy attack on the 18 Rajput Regiment and killed 70 members of the allied forces including 4 officers. The Pak army left Asuganj on 10 December 1971.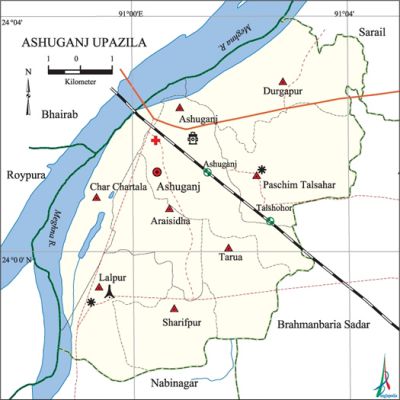 Marks of War of Liberation Mass grave 1 (Lalpur Bazar); mass killing site 1 (Ashuganj silo).'
Religious institutions Mosque 205, temple 11, tomb 6.
Literacy and educational institutions Average literacy 46.2%, male 47.7%, female 42.7%. Educational institutions: 'college 4, secondary school 14, primary school 46, madrasa 4, orphanage 41. Noted educational institutions: Feroj Miah Degree College, Bangabandhu Technical College, Abbas Uddin Khan College, Zia Fertilizer Factory School and College, Asuganj AAI High School, Hazi Abdul Jalil High School, Lalpur S. K. Das Chowdhury High School, Tarua Girls' High School, Talshahor Karimia Senior Madrasa, Araisidha Senior Madrasa, Darul Huda Ebtedaiye Madrasa.
Cultural organisation Library 4, other cultural institutions' 6, theatre 2, press club 1.
Newspapers and periodicals Pratasha, weekly Meghna Chitra, Asuganj Sangbad, Ekushey Alo, Kalamer Katha.
Main sources of income Agriculture 27.88%, non-agricultural labourer 6.56%, industry 1.79%, commerce 23.55%, transport and communication 2.24%, service 14.10%, construction 2.02%, rent and remittance 3.57% and others 18.29%.
Ownership of agricultural land Landowner 53.04%, landless 46.96%; agricultural landowner: urban 49.53% and rural 53.99%.
Main crops Paddy, jute, mustard seed, potato, chilli and vegetables.
Extinct and nearly extinct crops China, linseed, koun and ground nut.
Fisheries, dairies and poultries This upazila has a number of fisheries, dairies and poultries.'
Communication facilities Roads: pucca road 37.50 km, mud road 112; railways' 7 km, railway station 2.
Noted manufactories Asuganj Thermal Power Plant, Zia Fertilizer Factory, etc.
Hats, bazars and fairs Total number of hats, bazars and fairs are12, most noted of which are Asuganj Hat, Char Chartala Hat, Talshahor Hat, Tarua Hat and Lalpur Hat, Baishaki Mela (Asuganj), Talshahor Mela and Araisidha Mela.
Access to electricity All the unions of the upazila are under electricity net-work; however 57.75% dwelling households have access to electricity.
Sources of drinking water Tube-well 88.71%, pond 1.27%, tap 6.62%, and others 3.40%.
Sanitation 44.89% of dwelling households (urban 54.33% and rural 42.36%) of the upazila use sanitary latrines and 49.33% of dwelling houses (urban 41.76%, rural and 51.37%) use non-sanitary latrines; 5.78% of households do not have latrine facilities.
Health centres Satellite clinic 1, clinic 3, family welfare centre 4.
NGO activities asa, proshika, Araisidha Nari Unnayan Kendra, Jagarani Kendra and Grameen Unnayan Kendra. [Muhibur Rahim]
References Bangladesh Population Census 2001, Bangladesh Bureau of Statistics; Cultural Survey report of Ashuganj Upazila 2007.