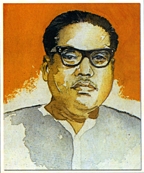 Aziz, MA (1921-1971) politician. He was born in 1921 at Halishahar in Chittagong. His father was Mohabbat Ali and mother Rahima Khatun. MA Aziz passed Matriculation examination in 1940 from Pahartali Railway High School, and IA in 1942 from Chittagong College. During this time he joined the All Bengal Muslim Students League. He was expelled from the college in 1944 due to his political activities. Thereafter he joined Awami Muslim League. From the very inception of Awami Muslim League he was performing the responsibility of general secretary of Chittagong district unit of the party. He made substantial contribution as the joint convener of Sarba Daliya Rashtra Bhasha Sangram Committee in Chittagong. He was arrested and had to suffer imprisonment immediately after the language movement.
MA Aziz was elected a member of the central executive committee of Awami Muslim League in 1953. With the promulgation of section 92 A in 1954 he was arrested by the government. He was again taken into custody in 1958 after the proclamation of martial law in the country.
He had vital role in the movement on Six-Point Pragramme of Bangabandhu sheikh mujibur rahman in 1966. He was arrested on 8 May 1966 under the preventive law along with Bangabandhu Sheikh Mujibur Rahman and other leaders of the party. He was again arrested on 18 July 1970 during the anti-martial law movement. MA Aziz was elected a member of the National Assembly of Pakistan in 1970 from the Kotwali-Double Mooring constituency as a nominee of Awami League.
MA Aziz died on 11 January 1971. Chittagong Stadium was renamed after him as MA Aziz stadium. [Mohammad Mostafa Kamal]