Azraf, Dewan Mohammad (1908-1999) educationist, philosopher and national professor, was born in his maternal grandfather's house on 1 January 1908 in the village of Teghoria (Laxmansri) in sunamganj district. He studied at the Middle English School, Duhalia. In 1930, he passed BA with distinction from Murari Chand College, Sylhet and in 1932, MA in Philosophy from the university of dhaka.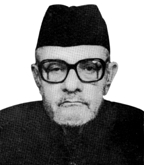 In 1948, he joined Sunamganj College, becoming its principal in 1954. However, he was dismissed from his post the same year on charges of supporting the language movement. Subsequently, he served a number of colleges as principal. In 1967, he joined the newly founded Abujar Gifari College as principal, continuing to work there till 1980. He taught part-time at the University of Dhaka in the departments of Philosophy and Islamic Studies from 1973 to 1990.    
Dewan Mohammad Azraf joined the muslim league in 1946 and was elected to the Assam Provincial Committee. He was a supporter of abdul hamid khan bhasani. In 1946 he protested the oppressive treatment of Muslim immigrants in Assam. He was arrested for violating Section 144 and sentenced to imprisonment for ten months. He was an active supporter of the language movement and, while editing the Nao Belal in 1948, wrote strongly in favour of Bangla. He was elected president of the Tamaddun Majlis in 1949 and continued in this post till his death.
Mohammad Azraf was interested in philosophy, literature, and culture. In 1936 he organised the Kendriya Muslim Sahitya Sangsad (Central Muslim Literary Association) in Sylhet and served as its president from 1940 to 1943. He was an active member of the Pakistan Philosophical Congress and served for some time as its treasurer. He made significant contributions to philosophical studies and from 1984 to 1989 was president of the bangladesh philosophical association.
Mohammad Azraf wrote on a variety of subjects including literature and philosophy. About sixty of his books have been published and a considerable amount of his writing remains unpublished. A few of his notable works are Tamadduner Bikash, Islam O Manavatavad, Marami Kavi Hasan Raja, and Dharma O Darshan.
Mohammad Azraf received several awards, among them, the Independence Day Award, International Muslim Solidarity Prize, Ekushey Padak, Islamic Foundation Prize, Srijnan Atish Dipankar Prize and Bangladesh Muslim Mission Prize. Government made him National Professor in 1993. He died in 1999. [Pradip Kumar Roy]