BIRDEM (Bangladesh Institute of Research and Rehabilitation in Diabetes, Endocrine and Metabolic Disorders) a multi-sectoral health care center, educational and research institute at Shahbagh in Dhaka. This central institution of the diabetic association of bangladesh (DAB) was established in 1980 on a government plot and financed by the government, and accommodated in three large multi-storied buildings. The hospital, housed in a 15-storied building, now provides for 542 beds of which 80 are meant for poor diabetic patients on gratis. On an average, about three thousand patients attend and have their check-ups everyday. It is one of the largest health-complexes in Bangladesh providing almost all types of clinical and diagnostic facilities. The hospital maintains almost all branches of clinical medical science with skilled manpower and improved apparatus. The in-patient departments have taken the characteristics of almost a general hospital, although diabetic and other endocrine patients are always given priority. BIRDEM maintains a separate research department with fulltime manpower. The research activities are conducted in collaboration with various national and international research organizations.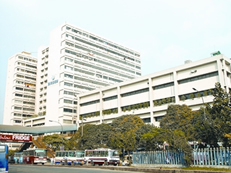 The clinical services of BIRDEM provide comprehensive diabetic care free of charge to all the registered diabetic patients. The fund collected by 'Cross financing' system i.e through medical care and diagnostic service to other patients, is spent for imparting free medical service to the diabetic patients. The patients are entitled to get medical supervision, consultations, diabetic education (which includes basic knowledge on overall health), advice on nutrition, social support and rehabilitation, if necessary. Insulin, oral hypoglycemic agents, and medicines are supplied free or at subsidized cost.
With an object of producing adequate qualified manpower for medical institutions in the country including BIRDEM, the BIRDEM Academy was established in 1986. The Academy conducts diploma and degree courses like DEM, MPhil, MD and PhD in Endocrine Medicine. Besides, post graduation courses are also conducted on subjects like general surgery, ophthalmology, medicine, gyne and obs., anesthesia, critical care medicine etc. In 1982, BIRDEM was recognized as a WHO Collaborating Centre for Developing Community Oriental Programme for Diabetes Prevention and Control. This is the first recognized body of its kind outside Europe.
The chief executive of the BIRDEM is its Director General working under a Board of Management nominated by the National Council of Diabetic Association of Bangladesh. The hospital unit of the BIRDEM has recently been renamed as BIRDEM General Hospital thereby to change the current public idea that it provides exclusively diabetic medicare. [Siddique Mahmudur Rahman and MKI Quayyum Choudhury]