Baba Adam's Mosque and Tomb
Baba Adam's Mosque and Tomb is situated in the village of Kazi Qasba under Rikabibazar Union in Rampal thana of Munshiganj district. The rectangular multi-domed mosque measures internally 10.35m x 6.75m and externally 14.30m x 11.45m; the thickness of the wall is about 2m. The mosque is divided into three bays and two aisles. The back of the western wall is projected in three steps of which the central part contains an ornamental multicusped arch-panel. The mosque is roofed over by six uniform hemispherical domes, three in each row. There are two freestanding slender pillars of black basalt, octagonal at the base, then sixteen-sided, having chain and bell motifs. The stone pillars, apparently of pre-Muslim origin, support the arches from which spring six domes. The arches are of the pointed two-centred variety. The mosque is brick built, but the freestanding pillars and engaged pilasters are made of stone.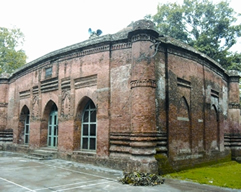 The cornice and roof of the mosque are curvilinear as are most of the buildings of the sultanate period. On the eastern side, there are three impressive arched entrances parallel to the mihrabs in the west wall. The central mihrab shows a multi-cusped arch curved on ornamental pillars.
The spandrels of the arch are embossed with rosettes, above which is a row of decorative niches, topped with tiers of mouldings. All the entrances and mihrabs are recessed within rectangular frames. The south and north walls contain rectangular niches. The mosque does not have a minaret. On both sides of the central doorway there are two multi-cusped rectangular panels. The arches are supported on faceted small pillars and decorated with a beautiful terracotta floral design and a hanging motif. This type of facade decoration is also found in shahjadpur mosque (Serajganj).
Baba Adam's Mosque shows all the decorative and architectural characteristics of the sultanate architecture of Bengal. This mosque, in fact, bears the mature form of the sultanate mosque style of this region (Bangladesh). It is a six-domed mosque. The only other extant example of this type of mosque is Satgaon Mosque (1529 AD).
An inscription, fixed above the central doorway in the east, records 888 AH/1483 AD as the date of construction of the mosque. Malik Kafur built it during the reign of Sultan Fath Shah. Baba Adam's Mosque is now a protected monument under the department of archaeology, Bangladesh. It has been renovated and is in a comparatively good state of preservation.
Besides the mosque there is a tomb known as Baba Adam's Mazar, where, according to a legend, baba adam shahid, who died in a holy war, was buried. It is difficult to ascertain the historicity of this tomb due to lack of authentic sources. There is a newly built small tomb structure situated on the south-east side of the courtyard of the mosque. Previously, there was no roof over the tomb. The present tomb is square in plan (7.62m a side) and is undated and without any inscription tablet. The simple grave has no feature of architectural importance and the Department of Archaeology is not responsible for preserving it. [Ayesha Begum]