Badda Thana (Dhaka metropolitan) area 36.84 sq km, located in between 23°45' and 23°49' north latitudes and in between 90°25' and 90°28' east longitudes. It is bounded by khilkhet thana on the north, khilgaon thana on the south, rupganj upazial on the east, gulshan, cantonment, rampura thanas on the west.
Population Total 320025; male 176810, female 143215; Muslim 305118, Hindu 11633, Buddhist 2894, Christian 329 and others 51.
Water bodies Balu river and Gulshan lake are notable.
Administration Badda thana was formed on 9 December 1998 consisting parts of Cantonment and Gulshan thanas.
Thana
Ward and Union
Mahalla and Mouza
Population
Density (per sq km)
Literacy rate (%)
Urban
Rural
Urban
Rural
Ward and Union
Ward and Union
Area (sq km)
Population
Literacy rate (%)
Male
Female
Ward No. 17 (part)
6.13
35559
28209
69.13
Ward No. 21
3.84
39978
30730
71.51
Beraid (part)
11.73
8463
7690 "
47.49
Badda (part)
3.86
48099
40761
54.59
Bhatara (part)
4.86
40737
32295
61.74
Satarkul (part)
6.42
3974
3530
45.69
Source Bangladesh Population Census 2001, Bangladesh Bureau of Statistics.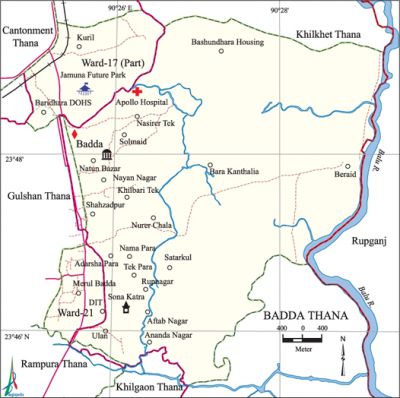 Archaeological heritage and relics Azad Mosque and Buddhist Math at Madhya (middle) Badda.
History of the War of Liberation During the war of liberation in 1971 the Pak army tortured many people and plundered at different places of Badda and Bhatara; they also killed two persons at village Samaid. Four Pak soldiers were killed in an encounter between the freedom fighters and the Pak army at a place adjacent to the Beraid Bridge. Many freedom fighters were killed in an encounter between the Pak army and the freedom fighters on 9 December 1971 at Joar Sahara.
Marks of War of Liberation Memorial sculpture Birer Prortyabarton (return of the hero) at Bhatara.
Religious institutions Mosque 45, temple 11, church 5,' pagoda 1. Noted religious institutions: Baitul Kader Jami Mosque, South Badda Jami Mosque, Merul Badda Jami Mosque, Shree Shree Mohadeb Ashrama and Kali Temple, Shree Shree Radha Gobindo Temple, Kanthaldia' Durga Temple.
Literacy rate and educational institutions Average literacy 58.36%; male 63.42%, female 52.18%. Noted educational institutions: North South University (1992), Independent University (1993), Pioneer Dental Medical College (1995), Cambrian School and College (2004), Badda Alatunnessa High School and College, Mohanagar Degree College, AKM Rohamotulla Degree College, Badda Govt. Girls High School, Beraid Muslim High School, Satarkul High School, American International School (1953), Hardco International School (1997), Baridhara Scholars Institution, Badda Govt. Primary School (1895).
Cultural organisations Club 2, community center 5, playground 3.
Important establishments Jamuna Future Park, Dhaka Electric Supply Company, Bashundhara Abashik Prokolpo (residential project).
Main sources of income Agriculture 4.17%,' non-agircultural labourer 2.19%, industry 3.10%, commerce 23.66%, transport and communication 11.31%, service 32.54%, construction 6.17%, religious service 0.13%, rent and remittance 3.10% and others 13.63%.
Ownership of agricultural land Landowner 54.76%, landless 45.24%.
Main crops Paddy, vegetables.
Main fruits Mango, jackfruit, papaya, coconut.
Fisheries, dairies and poultries Fishery 5, dairy 19, poultry 20.
Communication facilities Total roads: 55.35 km.
Extinct or nearly extinct Traditional transport Palanquin, horse carriage and bullock cart.
Noted manufactories Garments industry, saw mill, sweetmeat factory, furniture factory.
Cottage industries Blacksmith, handicrafts, bamboo works, cane works.
Hats, bazars and shopping centres Jamuna Future Park, Bashundhara Bazar, Hazi Market, South Badda Bazar, Baridhara Natun Bazar, Joar Shara Bazar, North Badda bazar, Merul Badda Kancha Bazar are notable.
Main exports Readymade garments, sweetmeat, furniture, handicraft.
Access to electricity All the wards and unions of this Thana are under electrification net-work; however, 96.84% dwelling households have access to electricity.
Sources of drinking water Tube-well 14.60%, pond 0.10%, tap 84.18% and others 1.12%.
Sanitation 87.41% of dwelling households of the thana use sanitary latrines and 11.68% of dwelling households use non-sanitary latrines; 0.91% of households do not have latrine facilities.
Health centres Apollo Hospital, Badda General Hospital, Asian General Hospital, Maternity and Child Clinic, Upashom Hospital, Al-Sami Hospital.
ngo activities' asa, brac, proshika. [Md Tuhin Molla]
References Bangladesh Population Census 2001, Bangladesh Bureau of Statistics.