Bagha Upazila (rajshahi district) area 184.25 sq km, located in between 24°07' and 24°19' north latitudes and in between 88°44' and 88°55' east longitudes. It is bounded by charghat and bagatipara upazilas on the north, daulatpur (kushtia) upazila on the south, lalpur and Bagatipara upazilas on the east, west bengal (India) and Padma river on the west.
Population Total 169527; male 87885, female 81642; Muslim 160283, Hindu 9180, Buddhist 37 and others 27.
Water bodies 'Main rivers: padma, baral.
Administration Bagha Thana was turned into an upazila on 26 March 1983.
Upazila
Municipality
Union
Mouza
Village
Population
Density (per sq km)
Literacy rate (%)
Urban
Rural
Urban
Rural

1

6

98

93

22038

147489

920

48.22

40.86
Municipality

Area (sq km)

Ward

Mahalla

Population

Density (per sq km)

Literacy rate(%)

10.99

9

25

22038

2005

48.22
Union
Name of union and GO code
Area (acre)
Population
Literacy rate (%)
Male
Female

Arani 13

5586

12332

11312

46.03

Gargari 55

10659

13633

12958

34.92

Pakuria 79

7493

14921

13837

36.15

Bausa 23

7558

13159

12230

46.14

Bajubagha 15

6068

7022

6656

42.85

Manigram 63

8166

15361

14068

40.79
Source Bangladesh Population Census 2001,Bangladesh Bureau of Statistics.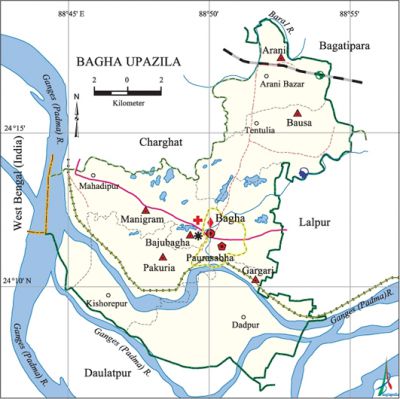 Archaeological heritage and relics Ten-domed Bagha Shahi Mosque and Dighi (1523), Neelkuthi at Mirganj (presently used as silk factory), Mazar of Dilal Bukheri (R) at Alaipur.
Historical events Alaipur village of Bagha was the headquarters of Laskar Khan Jaigirdar during the sixteenth century. Hazrat Shah Doulah settled at Bagha and started preaching Islam. He also established a famous madrasa here. During the war of liberation in 1971 the Pak army established temporary camps at different places like Arani, Bagha, Narayanpur, Pakuria, Chawkrajapur and Alaipur. A number of encounters between the freedom fighters and the Pak army occurred in those places. The heroic resistance of the freedom fighters of this upazila compelled the Pak army to flee at different places like Pabna, Arani, Natore and Nandangachhi; while the people of those villages killed many of them. About 400 freedom fighters participated in the War of Liberation from Bagha Upazila of whom 7 lost their lives.
Religious institutions Mosque 343, temple 36, tomb 5, sacred place 2. Noted religious institutions: tomb of Hazrat Shah Dolah, Mandir of Khapa Baba.
Literacy rate and educational institutions Average literacy 41.83%; male 45.66%, female 37.73%. Educational institutions: college 19, secondary school 49, primary school 42, madrasa 25. Noted educational institutions: Shah Dolah Degree College, Abdul Ghani College, Mirganj College, Alhaz Ershad Ali Mahila College, Arani College, Arani Manmohini High School (1865), Bagha High School.
Newspapers and periodicals Monthly: Mukta Kantha; Periodicals: Mitrika, Sharani, Baghabarta.
Cultural organisations Library 6, club 25, press club 1, women association 12, cinema hall 1, playground 22.
Main sources of income Agriculture 63.57%, non-agricultural labourer 5.47%, industry 1.14%, commerce 17%, transport and communication 2.05%, service 3.36%, construction 0.53%, religious service 0.13%, rent and remittance 0.11% and others 6.64%.
Ownership of agricultural land Landowner 57.52%, landless 42.48%; agricultural landowner: urban 46.97% and rural 59.13%.
Main crops Paddy, wheat, jute, sugarcane, black gram, mulberry, ground nut, turmeric, vegetables.'
Extinct or nearly extinct crops Sweet potato, sesame, linseed, aush paddy, arahar.
Main fruits Mango, jackfruit, litchi, guava, date.
Fisheries, dairies and poultries Fishery 110, dairy 18, poultry 106.
Communication facilities Pucca road 30 km, mud road 624 km; railway 4.5 km.
Extinct or nearly extinct traditional transport Palanquin, bullock cart and horse carriage.
Noted Manufactories Rice mill 15, ice factory 2, saw mill 5, welding 20.
Cottage industries Goldsmith 35, potteries 105, cobbler 67, cocoon industry 1, wood work 325, bamboo work 250.
Hats, bazars and fairs Hats and bazars are 26, fairs 2, most noted of which are Bagha, Mirganj, Chandipur, Narayanpur, Arani, Manigram, Rustampur hats and Bagha Eid Mela.
Main exports Paddy, wheat, jute, mango, jackfruit, turmeric, cocoon, sugarcane, date molasses.
Access to electricity All the wards and unions of the upazila are under rural electrification net-work. However 25.45% of the dwelling households have access to electricity.
Sources of drinking water Tube-well 96.29%, tap 0.31%, pond 0.16% and others 3.24%. The presence of arsenic in shallow tube-well water of the upazila has been detected.
Sanitation 23.26% (rural 21.31% and urban 36.1%) of dwelling households of the upazila use sanitary latrines and 47.14% (rural 47.83% and urban 42.65%) of dwelling households use non-sanitary latrines; 29.59% of households do not have latrine facilities.
Health centres Upazila health centre 1, family planning centre 6, clinic 3.
Natural Disaster' In 2009 4 km area of land and 677.26 hectors of agricultural land were submerged in the Padma river bed due to erosion.
NGO activities Operationally important NGOs are brac, asa, caritas, thengamara mahila sabuj sangha. [AKM Kaisaruzzaman]
References Bangladesh Population Census 2001, Bangladesh Bureau of Statistics; Cultural survey report of Bagha Upazila 2007.