Bahubal Upazila (habiganj district) area 250.66 sq km, located in between 24°15' and 24°28' north latitudes and in between 91°28' and 91°37' east longitudes. It is bounded by nabiganj upazila on the north, chunarughat upazila on the south, sreemangal upazila on the east, habiganj Sadar upazila on the west.
Population Total 167265; male 85385, female 81880; Muslim 141129, Hindu 25445, Buddhist 385, Christian 24 and others 282. Indigenous communities such as khasia, Tipra and manipuri belong to this upazila.
Water bodies Main rivers: Korangi, Khowai, barak.
Administration Bahubal Thana, now an upazila, was formed in 1921.
Upazila
Municipality
Union
Mouza
Village
Population
Density (per sq km)
Literacy rate (%)
Urban
Rural
Urban
Rural

-

7

145

337

3371

163894

667

59.08

37.02
Upazila Town

Area (sq km)

Mouza

Population

Density
(per sq km)

Literacy rate (%)

2.12

2

3371

1863

58.94
Union
Name of union and GO code
Area (acre)
Population
Literacy rate (%)
Male
Female

Putijuri 59

13853

11672

11227

36.84

Bahubal 11

4997

12435

11704

36.17

Bhadeshwar 23

15114

14899

13816

36.64

Mirpur 47

4068

11038

10605

46.88

Lamatashi 35

5048

10079

10236

41.37

Satkapan 71

7823

14355

13771

34.51

Snanghat 83

11029

10907

10521

30.97
Source Bangladesh Population Census 2001, Bangladesh Bureau of Statistics.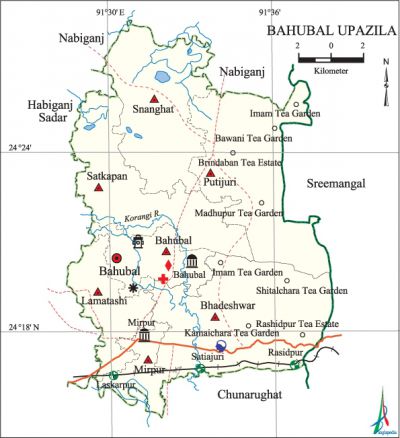 Historical events Afghan Chief Khwaja Osman left Bukai Nagar Fort and established shelter at Putijuri of present Bahubal upazila on the foot of the Giripal. He built a fort there which had strategic importance for defense. However, the Mughal took the advantage of the fort when his brother evacuated it. Finally Khwaja Osman's army was defeated at village Daulambapur of Maulvi Bazar district about 9 to 10 km on the east.
Religious institutions Mosque 197, temple 14, tomb 3. Noted religious institutions: Bahubal Jami Mosque, Mirpur Jami Mosque, Putijuri Jami Mosque.
Literacy rate and educational institutions Average literacy 37.50%; male 41.12%, female 33.74%. Educational institutions: college 2, secondary school 30, primary school 148, kindergarten 4, madrasa 25. Noted educational institutions: Alif Sobhan College, Dina Nath Institute (1937), Faizunechha High School (1960), Putijuri SC High School, Manab Kallayan High School (1941), Mirpur Dakhil Madrasa (1920).
Cultural organisations Library 5, club 12, community centre 1, auditorium 1, literary society 2, play ground 8.
Main sources of income Agriculture 62.71%, non-agricultural labourer 10.88%, commerce 8.17%, transport and communication 1.85%, service 3.92%, construction 0.55%, religious service 0.39%, rent and remittance 1.68% and others 9.85%.
Ownership of agricultural land Landowner 57.09%, landless 42.91%; agricultural landowner: urban 53.44% and rural 57.17%.
Main crops Paddy, mustard seed, tea, wheat, rubber, betel leaf, peanut, oil seed, vegetables.
Extinct or nearly extinct crops Sesame, sweet potato, jute.
Main fruits Mango, jackfruit, banana, litchi, lemon, pineapple.
Fisheries, dairies and poultries This upazila has a number of fisheries, dairies and poultries.'
Communication facilities Roads: pucca road 34 km, semi-pucca road 30 km, mud road 82 km; waterways 45 nautical mile; railways 10 km.
Extinct or nearly extinct traditional transport Palanquin, soari boat.
Cottage industries Goldsmith, blacksmith, potteries.
Hats, bazars and fairs Hats and bazars are 12, fairs 3, most noted of which are Putijuri Bazar, Bahubal Bazar, Mirpur Bazar, Chandrachurir Mela and Dhannakhalir Mela.
Main exports Paddy, tea, pineapple, lemon, jackfruit, wood, rubber.
Access to electricity All the unions of the upazila are under rural electrification net-work. However 22.30% dwellings have access to electricity.
Natural resources' Natural gas, sand.
Sources of drinking water Tube-well 82.76%, pond 8.91%, tap 1.87% and others 6.46%.
Sanitation 39.71% (urban 61.88% and rural 39.25%) of dwelling households of the upazila use sanitary latrines and 48.78% (urban 35% and rural 49.07%) of dwelling households use non-sanitary latrines; 11.51% of households do not have latrine facilities.
Health centres Upazila health complex 1, union health and family planning centre 7, community clinic 3, private clinic 1, mother and child welfare centre 5, charity hospital 1, satellite clinic 1, diagnostic centre 2, veterinary hospital 1.
NGO activities brac, asa, CARE. [Jayanta Singh Roy]
References Bangladesh Population Census 2001, Bangladesh Bureau of Statistics; Cultural survey report of Bahubal Upazila 2007.