Bairagir Bhita is a site of temples within the citadel of mahasthan (pundranagara), about 76m south of the northern rampart. Excavated in 1928-29, the site proved to be the remains of two fragmentary temples of the early and late Pala periods (8th-9th century and 11th century) along with some subsidiary structures in the open courtyard to the north enclosed within a perimeter wall.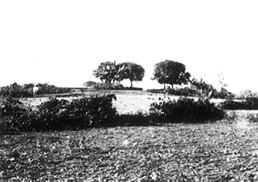 The basement wall (29.87m × 12.8m) of the early Pala period temple, traceable on north and east, was found to be relieved with plain mouldings, while its southern half was completely superimposed by the temple built later.
A north-south running drain bisected the temple into two parts. A portion of the drain was built of brick and the rest was built of black basalt stone which had been retrieved from earlier Gupta levels. Of these stone pieces, two highly ornamental pillars were found to be scooped out to a depth of about 12.7cm on the lee side to form a channel intended probably to carry the libation water of the shrine. These square stone pillars, chamfered at the corners, are decorated with half-lotus medallions, Kirtimukha, and beautiful floral scrolls in the typical Gupta style.
The late Pala temple (about 11th century AD) at the site was built on the southern half of the ruins of the earlier one. It is bigger and rectangular in size (33.83m × 13.37m), but the disintegrating nature of the ruins precluded following its plan clearly. The discovery of a number of beautifully chiseled stone pillar bases and doorjambs with dowel marks strongly indicate the existence of a porch in the middle of the northern wing.

To the east of the temple complex, remains of the platform, divided into 23 compartments, each demarcated by brick-or-edge bands, were also encountered. These were probably used by bathers. In addition to the above, several deep pits sunk at the site revealed structural remains of the late Gupta period (6th century AD.) underlying the Pala structures. [Ayub Khan]