Baliadangi Upazila (thakurgaon district) area 284.12 sq km, located in between 25°59' and 26°12' north latitudes and in between 88°10' and 88°22' east longitudes. It is bounded by west bengal of India and atwari upazila on the north, ranisankail upazila on the south, thakurgaon sadar upazila on the east, West Bengal of India on the west.
Population Total 169771; male 87997, female 81774; Muslim 135726, Hindu 32682, Buddhist 1116, Christian 11 and others 236.
Water bodies Main rivers: Tirnai, Kulik, Nagar.
Administration Baliadangi Thana was formed in 1806 and it was turned into an upazila on 2 July 1983.
Upazila
Municipality
Union
Mouza
Village
Population
Density (per sq km)
Literacy rate (%)
Urban
Rural
Urban
Rural

-

8

78

78

14102

155669

598

46.5

38.5
Upazila Town

Area
(sq km)

Mouza

Population

Density
(per sq km)

Literacy rate
(%)

17.72

2

14102

796

46.5
Union
Name of union and GO code
Area (acre)
Population
Literacy rate (%)
Male
Female

Amjankhore 10

9219

10151

9263

26.67

Charol 52

8011

11232

10466

42.82

Duosuo 73

7989

12453

11496

46.20

Dhantala 63

8810

9997

9209

43.36

Paria 84

9234

10387

9793

39.09

Bara Palashbari 31

9752

11040

10694

27.86

Barabari 21

8419

11939

10789

39.51

Bhanor 42

8776

10798

10064

45.70
Source Bangladesh Population Census 2001,Bangladesh Bureau of Statistics.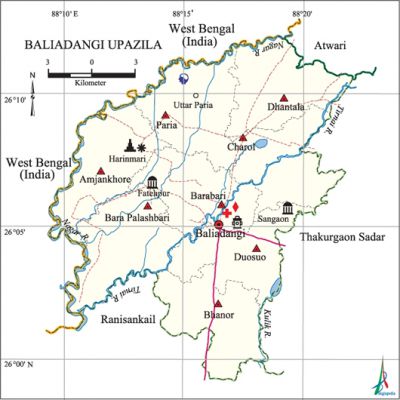 Archaeological heritage and relics Three-domed Shahi Mosque at Sangaon, three-domed Fatehpur Mosque (Mughal period), Shiva Mandir at Harinmari Hat, Imambara, Stone inscription of Sarvamangala Jami Mosque, Garhkhari Fort, Sangaon Fort.
Historical events During the tebhaga movement the joatdars (landlords) killed 4 peasants of village Thumnia Mandappara in Dhantala union on 20 February 1947. During the war of liberation, the Pak army brutally killed 18 persons at village Belcha-Zhikra. Besides, the Pak army shot 9 persons dead on the bank of the river Tirnai adjacent to the Kushaldangi hat in Bara Palashbari union.
Marks of War of Liberation Mass killing site 1 (Kushaldangi hat).
Religious institutions Mosque 300, temple 24, church 11, tomb 1.
Literacy rate and educational institutions Average literacy 39.2%; male 47.9%, female 29.8%. Educational institutions: college 4, technical college 3, secondary school 48, primary school 133, madrasa 29. Noted educational institutions: Kalamegh R Ali High School and College (1940), Samiruddin Smriti College (1989), Charta High School (1928), Lahiri High School (1932), Baliadangi Pilot High School (1969), Baliadangi Girl's High School (1985), Baliadangi Government Primary School (1940), Kalamegh Eidgah FR Fazil Madrasa (1967).
Newspapers and periodicals Charan, Tirnai, Nabin.
Cultural organisations Library 34, theatre group 3, opera party 1, cinema hall 2, playground 32.
Main sources of income Agriculture 79.34%, non-agricultural labourer 2.84%, industry 0.35%, commerce 8.09%, transport and communication 2.64%, service 2.78%, construction 0.44%, religious service 0.08%, rent and remittance 0.18% and others 3.26%.
Ownership of agricultural land Landowner 66.46%, landless 33.54%; agricultural landowner: urban 65.7% and rural 66.52%.
Main crops Paddy, wheat, corn, sugar cane, potato, mustard seed, vegetables.'
Extinct or nearly extinct crops Jute, kaun, pulses, aus paddy.
Main fruits Mango, jackfruit, blackberry, banana, water-melon.
Fisheries, dairies and poultries Dairy 41, poultry 15.
Communication facilities Pucca road 52.54 km, mud road 457.1 km.
Extinct or nearly extinct traditional transport Palanquin, bullock cart and horse carriage.
Noted manufactories Rice mill, husking mill, saw mill, flour mill, oil mill, ice factory, biscuit factory.
Cottage industries Glodsmith, blacksmith, potteries, embroidery, bamboo work.
Hats, bazars and fairs Hats and bazars are 17, fairs 22; most noted of which are Lahiri, Kalmegh, Harinmari, Kushaldangi, Morrol, Paria, Haldibari hats and Adhardighi Nababarsha Mela.
Main exports Mango, water-melon, potato.
Access to electricity All the unions of the upazila are under rural electrification net-work. However 10.58% of the dwelling households have access to electricity.
Sources of drinking water Tube-well 95.5%, tap 0.23%, pond 0.08% and others 4.19%.
Sanitation 5.61% (rural 4.45% and urban 18.53%) of dwelling households of the upazila use sanitary latrines and 22.67% (rural 23.5% and urban 13.53%) of dwelling households use non-sanitary latrines; 71.72% of households do not have latrine facilities.
Health centres Upazila health complex 1, union family welfare centre 7, leprosy clinic 1.
Natural Disaster The heavy rain fall of 1988 caused huge damage to crops of Bara Palashbari and Amjankhore unions of the upazila.
NGO activities Operationally important NGOs are brac, rdrs, CARE, Baliadangi Development Organisation. [Abu Md Iqbal Rumi Shah]
References Bangladesh Population Census 2001, Bangladesh Bureau of Statistics; Cultural survey report of Baliadangi Upazila 2007.