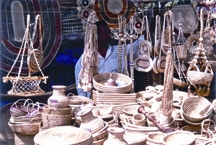 Bamboo Craft Traditional crafts using bamboo as raw material. Rural people in general are both producers and consumers of this product. Bamboo has manifold uses, its low cost making it the primary material for articles of everyday use such as stools, mats, baskets, traps as well as decorative items. It is important both in life and after death. It is used for building houses, as well as to make ladders and scaffolds for building and repairing houses. It is also used in both Hindu and Muslim funerals, for burning or burying the dead.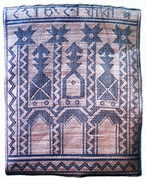 Twenty-six species of bamboo are available in Bangladesh. Three species that are used for industrial purposes are muli, talla and baira. Although bamboo products do not have a long life, their varied uses and low prices have made the industry a profitable one. Much of the technology is primitive and has remained unaltered for more than thousand years. The bangladesh national museum in Dhaka has in its collection a Buddha (c 10th century; collection no. 1115) found in dinajpur which shows him seated, not on the traditional lotus seat, but on what appears to be a stool made of bamboo and cane. Such stools are still made in Bangladesh.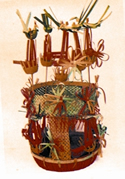 There is hardly any aspect of rural life in Bangladesh where bamboo products are not in use. Bamboo mathal (hat) and bamboo baskets are used in farm work. Fishermen use bamboo traps and creels to catch and store fish: chai, khalui, juita, etc. Traditional houses often have roofs made of bamboo, dochala (two-sided roof), charchala (four-sided roof) or atchala (eight-sided roof) as well as bamboo fences. Other common craft items include jhap (hanging door or lid), belki and darma (screen). In the past bamboo was also used to make weapons such as barsha (pike), dhal (shield), lathi (stick), tir (arrow), dhanuk (bow), and vallam (spear). Roofs of boats and bullock carts are also made of bamboo, as are frames of rickshaw hoods. The traditional flute, an essential folk musical instrument, is made of bamboo as is the body of the ektara. Bamboo toys and dolls are popular and cheap.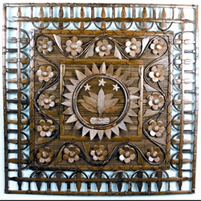 The bamboo forms part of the lifestyle of tribal people. An intricate bamboo dance is performed by chakma girls, and sections of bamboo are used to carry and transport cooked rice. Utensils made of bamboo are made attractive by weaving delicate slivers of bamboo into designs. Large, conical bamboo baskets are widely used in the tea gardens of sylhet. khasia tribes use bamboo baskets for keeping betel leaves.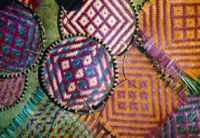 Bamboo utensils such as kula (winnowing fan), jhudi (basket), chalani (sieve), dala (tray, specially used for drying pickles) are part of everyday life and are used in both rural and urban kitchens. Lately the use of bamboo furniture has become fashionable. Bamboo is also being used to make attractive ashtrays, flower vases, cosmetic boxes, picture frames, mirror frames, pens, etc. [Zinat Mahrukh Banu]
See also folk arts and crafts.