Bandyopadhyay, Tarashankar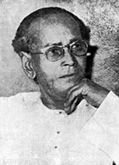 Bandyopadhyay, Tarashankar (1898-1971) novelist, was born on 23 July 1898 at Labhpur in Birbhum, son of Haridas Bandyopadhyay and Prabhavati Devi. He passed the Matriculation examination (1916) from Labhpur and took admission in IA at St Xavier's College, Calcutta. However, he soon left college and joined the non-cooperation movement (1920). He was imprisoned for one year (1930) for his political activities. He took active part in anti-fascist movements. He was a member of the West Bengal Bidhan Sabha for eight years and the Rajya Sabha for six years. He worked for some time in Kanpur and also had some dealings in coal.
Tarashankar wrote in a variety of genres but was primarily a novelist. His political ideas are reflected in his novels. His themes include communal riots, war, famine, the political implications of economic inequality, the independence movement, social conditions, the conflict of modernism with traditionalism etc. He wrote a total of 131 books. Prominent among his novels are Chaitali Ghurni (1931), Jalsa Ghar (1938), Dhatri Devata (1939), Kalindi (1940), Kavi (1944), Gana Devata (1943), Panchagram (1944), Hansuli Banker Upakatha (1947), Arogya Niketan (1953), Radha (1956), etc.
Some popular movies were based on his novels, among them, Dui Purus, Kalindi, Arogya Niketan, Jalsa Ghar, etc. He published three volumes of short stories. His famous short stories include 'Rasakali', 'Bedeni', 'Dak Harkara', He was also an artist and produced some fine paintings in his later years.
Tarashankar was associated with a number of literary organisations and became Vice President (1956) and President (1970) of the vangiya sahitya parishad. He led the Indian delegation of writers at the Asian Writers' Conference in Tashkent (1957). He was President of the Prabasi Banga Sahitya Sammelan (Kanpur, 1944, Calcutta, 1947) and the All-India Writers' Conference (Madras, 1957).
Tarashankar received a number of awards, among them Sharat Smriti Puraskar, Jagattarini Svarna Padak (Calcutta University), Sahitya Akademi Puraskar, Jnanapith Puraskar, Padmashri and Padmabhusan. Tarashankar died in Calcutta on 14 September 1971. [Badiuzzaman]