Bangladesh Krira Shiksha Pratisthan
Bangladesh Krira Shiksha Pratisthan (BKSP) an institute for instructing games and sports with a curriculum combined and synthesized with general education. The institution was established with the object of developing games and sports and for imparting extensive training to the promising and potential young sportsmen. With an object of giving the sports an international shape and for giving updated and proper training to the sportsmen the Government of Bangladesh chalked out a plan in 1974 for the establishment of Bangladesh Institute of Sports (BIS) in the form of a project under the National Sports Council. The project was initiated in 1976. By an ordinance in 1983 the institute was renamed as Bangladesh Krira Shiksha Pratisthan (BKSP). The Institute began functioning in 1986 with its regular training course and educational programme. The institute is developed at Jirani in Savar at 50 kilometers northwest of Dhaka metropolis covering an area of 119 acres of land.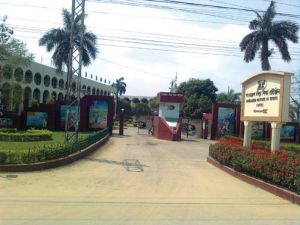 The BKSP is a statutory autonomous institute under the Ministry of Youth and Sports and is administered by a Board of Governors consisting of ten members headed by the minister of Youth and Sports. The Institute has four sections: Administration, Training, Sports science and Academics. The Director General is the chief executive of the institute under whom are two directors, such as Director Administration and Finance and Director Training. There is a Principal in general education section. With an object of searching for sports merit and for development of potentiality of the sportsmen through intensive training five regional centres are established each in Dinajpur, Barisal, Chittagong, Khulna and Sylhet of which only the Dinajpur branch is now in operation.
With an object of upgrading the efficiency of the sportsmen through scientific and modern training the Department of Sports Science has been opened in 2000. This department consists of five branches, such as Exercise, Physiology, Sports Biomechanics, Sports Medicine, Sports Psychology and Scientific Sports Training, and are equipped with modern and valuable instruments. There is a regular system of evaluation of the ability of the trainees in these branches. Besides, seminar, symposium, workshop on sports are regularly arranged. A half yearly research journal on sports science titled Bangladesh Journal of Sports Science, a quarterly bulletin and an annual magazine are published regularly.
Training programmes of various types are in operation in BKSP which mainly include long term (7-12 years) and short term (1-6 months) training. In addition, there are training course for trainers (4 weeks), certificate course (sports science, 3 months), diploma course especially on football, athletics, sports psychology, sports biomechanics, sports physiology and GTMT (one year). At present long term training programme is in operation on twelve types of sports, such as athletics, archery, busketball, boxing, cricket, football, gymnastics, judo, hockey, shooting, swimming and tenis. Introduction of the faculties of Table Tenis and Marshal Art (Taikand, Usho and Karate) is now under process.
BKSP is a full-fledged residential institute. There are four hostels for the boys and one for the girls. The trainees are kept under strict discipline and supervision. Various facilities including space for sports and infrastructure are there. There are five football grounds of international standard, two hockey grounds with one synthetic turf, four cricket grounds with one indoor cricket centre, one synthetic 8-lane track including one cinder athletic track, two busket ball courts with indoor facilities, and six tenis courts in tenis complex. In the Swimming complex there is 8-lane swimming pool of international standard including separate diving pool. There is a Shooting complex with 10m, 25m, 50m and skit range. There is a gymnasium covering an area of 1700 square meter with seats for 4000 spectators. Special sports facilities include the conditioning hall, sports science complex, audio-visual centre and a library. Other facilities include administrative building, college building, medical centre, VIP guest house, hostel for foreign coach, two hostels for outside trainees, one cafeteria, one mosque, and residential complex for the officers and employees.
The trainees are selected through admission test at the beginning of the English calender year. The candidates found eligible in physical test are called for written examination on sports related science (physiological and psychological) and on subjects related to their respective classes. The students found eligible in both the examinations are selected for admission in long course training. The tuition fee of the trainees is determined on the basis of the income of their guardians and is payable by quarterly instalments. Students are admitted in classes from iv to vii and in degree class. The College section of the institute is under the control of the Board of Intermediate and Secondary Education and the Degree section is affiliated with the National University. The trainees are provided with teaching materials, training appliances, food and lodging, and medical facilities.
The BKSP is a reputed institution not only in south Asia, but also in the whole of Asia. It has won 17 gold medals, 17 silver medals and 14 bronze medals in different international games. By this time the players of BKSP have been decorated with international honour. [Md. Ashraful Islam]'