Bangladesh University of Engineering and Technology
Bangladesh University of Engineering and Technology (BUET) located at the heart of dhaka city, is the oldest and foremost public university in the country to provide teaching and degree on higher technical and engineering education. The university initially started as 'Dhaka Survey School' at Nalgola in 1876 to produce surveyors for the government of Bengal in British India. In 1905 nawab ahsanullah provided the financial support for the overall development of school.
In course of time, the school grew in size and was renamed as the Ahsanullah Engineering School, which offered three-year diploma courses in several engineering subjects.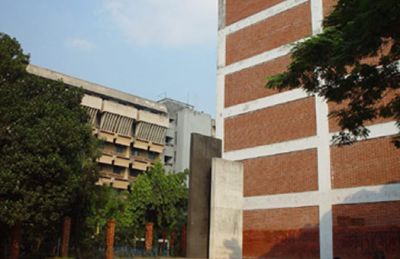 In 1948, the school was upgraded to Ahsanullah Engineering College and became part of the Faculty of Engineering of the university of dhaka. It began offering four-year bachelor degrees in civil, electrical and mechanical engineering. In 1962, the college was upgraded to a university. The new university was given the name the East Pakistan University of Engineering and Technology. Dr. M A Rashid was appointed its first Vice-Chancellor. Immediately after the war of liberation in 1971, it was renamed as the Bangladesh University of Engineering and Technology.
At present, the academic activities of the university include offering four-year undergraduate degrees in Civil Engineering, Electrical and Electronics Engineering, Mechanical Engineering, Chemical Engineering, Metallurgical and Material Engineering, Computer Science and Engineering, Industrial and Production Engineering, Naval Architecture and Marine Engineering, Urban and Regional Planning, and a five-year undergraduate degree Course in Architecture. Most departments now have Masters and PhD programmes. In addition, the BUET undertakes research on its own as well as under sponsorship by organisations like the United Nations, Commonwealth Foundation, Association of Commonwealth Universities and the University Grants Commission of Bangladesh.
The university has sixteen departments. It has several research institutes and centres, including the Institute of Flood Control and Drainage Research (IFCDR), Institute of Appropriate Technology (IAT), Centre for Energy Studies (CES), Computer Centre, Directorate of Continuing Education, and Centre for Environmental and Resource Management. The university has several large workshops namely carpentry, foundry, sheet metal, instrument, automobile and machine shops, which support and facilitate research and undergraduate project work. Students' housing and teachers' residences are all located within the university campus. There are eight halls of residence for students, including one for female students.
The total post of teachers in the university is 425. Every year about 75 of them, on an average, stay abroad on leave pursuing higher studies. The administrative staff includes 153 officers and 850 support services personnel.
The central library of BUET has a floor space of 22,600sft. and has a collection of 118,000 number of journals and 9,950 volumes of books. Currently, it subscribes 152 journals. The BUET Computer centre plays an important role in the university's teaching and research activities. It also provides useful services in data processing and in designing software packages for various sectors.
The Athletic Club of BUET provides excellent facilities to students for physical fitness and arranges annual meet. The university has a modern auditorium complex comprising a 1000-seat main hall, a centre for students and teachers and a 250-seat seminar room. The university awards different types of scholarships, namely stipends, teaching assistantships and fellowships to its students, as well as to the teachers. The university has a Publication-Cum-Information Bureau under the Directorate of Advisory, Extension and Research Services. The bureau is responsible for all kinds of publications of the university including research journals, proceedings of seminars, workshops and conferences, and academic bulletins. [Maksud Helali]