Bangshal Thana (Dhaka metropolitan) area 1.2 sq km, located in between 23°42' and 23°43' north latitudes and in between 90°24' and 90°24' east longitudes. It is bounded by shahbagh and paltan thanas on the north, kotwali thana on the south, sutrapur thana on the east, chawkbazar Model thana on the west.
Population Total 178241; male 111575, female 66666; Muslim 171512, Hindu 6647, Buddhist 42 and others 40.
Administration Bangshal Thana was formed on 30 September 2009 comprising part of Kotwali thana.
Thana
Ward and Union
Mahalla and Mouza
Population
Density (per sq km)
Literacy rate (%)
Urban
Rural
Urban
Rural
3+2 (part)
61
178241
-
148535
69.35
-
Ward
Ward
Area (sq km)
Population
Literacy rate (%)
Male
Female
Ward No. 67 (part)
0.15
8514
6627
73.39
Ward No. 68 (part)
0.26
14526
10442
75.19
Ward No. 69
0.36
37938
24101
63.28
Ward No. 70
0.27
31966
15666
68.66
Ward No. 71
0.16
18631
9830
66.27
Source Bangladesh Population Census 2001, Bangladesh Bureau of Statistics.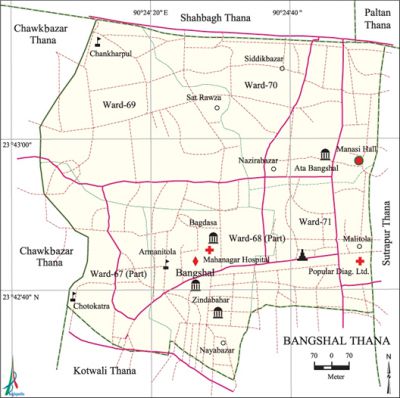 Noted religious institutions Ayesha (R.) Jami Mosque, Tara Mosque, Al Madina Jami Mosque, Babu Bazar Jami Mosque, Baitul Nur Jami Mosque, Baitul Mamur Jami Mosque, Banshal Road Bara Mosque, Bhitarbari Lane Jami Mosque, Bokheri Jami Mosque, Goalghat Baitul Nur Jami Mosque, Haji Moinuddin Road Jami Mosque, Hingabibi Jami Mosque, Kasaituli Mosque, KP Ghosh Lane Jami Mosque, Zindabahar Jami Mosque, Goal Nagar Lane Temple, Madhusudan Temple, Shiva Temple.
Literacy rate and educational institutions Average literacy 71.61%; male 73.82%, female 67.87%. Noted educational institutions: Ahmed Bawani College, Armanitola Government High School, Azizia Islamia School, Anandamoye Girls' School, Bongshal Girls' High School, Nowabpur Government High School, Millat High School, Bongshal Government Primary School, UCEP School, Islamia Saleha Ulm Madrasa, Kasaituli Adarsha Mahila Madrasa, Modinatul Ulm Hafezia Madrasa, Mahmuda Khatun Mahila Fazil Madrasa.
Cultural organisations Manasi Cinema Hall, Panchayet Club, Commissioner Community Centre, play ground, etc.
Noted installations Pigeon statue (Bangshal Chaurasta) Headquarter of Bangladesh Fire Service, Government Gymnasium, etc.
Amusement centres Sikkhatuli Park.
Main sources of income Agriculture 0.30%, non-agricultural labourer 0.44%, industry 2.44%, commerce 47.99%, transport and communication 1.49%, construction 0.64%, religious service 0.16%, service 28.98%, rent and remittance' 4.22% and others 13.34%.
Ownership of agricultural land Landowner 26.32%, landless 73.68%.
Communication facilities Total road 36.88 km.
Extinct or nearly extinct traditional transport Bullock cart and palanquin.
Noted manufactories Shoe factory, plastic factory, etc.
Noted cottage industries Crafts, bamboo works, cane works, etc.
Hats, bazars and shopping complex Naya Bazar, Nazira Bazar, Miranjalla Bazar, Fulbaria Jabor Super Market, City Plaza, Nagar Plaza, wholesale bi-cycle and motor cycle market, sanitary market, City Corporation Market, etc.
Access to electricity All the wards of the thana are under electrification net-work; however, 98.42%' dwelling households of the thana' have access to electricity.
Sources of drinking water Tube-well 13.18%, pond 0.15%, tap 83.42% and others 3.25%.
Sanitation 98.52% of dwelling households of the thana use sanitary latrines and 1.32% of dwelling households use non-sanitary latrines; 0.16% of households do not have sanitation facilities.
Health centres Dhaka Mahanagar General Hospital, Popular Diagonstic Centre Ltd, Medinova Medical Services Ltd, Veterinary Hospital. [Shamsun Nahar]
References Bangladesh Population Census 2001, Bangladesh Bureau of Statistics.