Banu, Leila Arjumand (1929-1995) a music artiste and social worker, was born on 5 January 1929. After early schooling in Eden Girls' School, Dhaka, she studied Persian and Philosophy at Dhaka University and obtained her BA degree in 1949.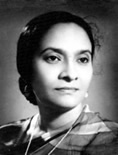 She took her early professional training in classical music under Ustad Gul Mohammad Khan. She received training in Nazrul Geeti, Rabindra Sanggeet, and Ghazal. She performed even in modern and folk songs. Her extraordinary career as a singer began with a solo performance during the inaugural broadcast of the Dhaka Station of All India Radio on 16 December 1939. At the age of ten she became the first Muslim vocal artiste to perform on Dhaka Radio.
At a time when purda prohibitions frowned upon women taking part in outdoor cultural activities, Leila Arjumand Banu, with the active co-operation of her parents, syed muhammed taifoor, a noted historian, and Sara Taifoor, stood to fight against such restrictions. She received the Coronation Medal from the Shah of Iran following her tour of Iran in 1968 and the 'Pride of Performance' award in 1969 from the President of Pakistan.
She was an honorary Principal of Dhaka Music College from 1977 to 1986, trustee of the Dhaka Museum, chairman of the Nazrul Swaralipi Suddhikaran Board (Nazrul Notation Authentication Board). Banu represented her country several times in cultural visits abroad. She died in Dhaka on 10 February 1995. [Shahnaz Huda]