Bara Katra an architectural relic of Dhaka city. It is situated to the south of Chawk Bazar close to the bank of the river buriganga.
Originally, the Katra enclosed a quadrangular courtyard with 22 rooms on all of its four sides. Its southern wall is 67.970m long. Probably the length of its Northern wall was same. Its west and eastern wall was 70.104m long, though at present it is difficult to measure its actual length. Two gateways were erected, one each on the north and south. The ruins consist of an edifice having a river frontage. The southern wing of the structure was planned on a grand scale and was marked with an elaborate three-storeyed gate containing an octagonal central chamber. The remaining portion was two-storeyed and encased by projected octagonal towers. The gateway structure is rectangular in plan. It is lofty in height and its fronton is projected towards the river.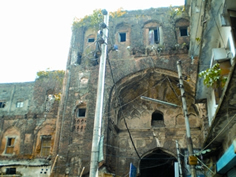 A tall alcove rising to the second storey reduces the mass of this projection. The wall surface is relieved with panels that are square as well as rectangular and that contain a variety of decorations of four-centred, cusped, horseshoe and flat arches. Above the apex of the alcove open the windows of the third storey.
Under the alcove is the main arched entrance which leads to the guardroom. Furthermore, as one passes through two successive archways, one comes across an octagonal domed hall, the ceiling of which is plastered and bears various net-patterns and foliaged designs. The double storeyed structure resolves on both sides of the central entrance into a row of five vaulted rooms in the ground floor and living rooms with a continuous corridor on the upper one.
Likewise, the upper floors of the entrance are furnished with rooms. The three storyed corner towers are hollow and can be approached from the subsidiary structures.
Following the traditional pattern of the caravan-sarai of Central Asia, the Bara Katra was highly fortified and was embellished with all the features of the imperial Mughal style.
The Bara Katra contains two inscriptions in Persian: one records that it was built in 1053 AH (1643-44 AD) and the other contains the date 1055 AH (1645-46 AD) and confirms that shah shuja gave the building to Mir Abul Qasim to be used as a Katra on the condition that the officials in charge of the endowments (waqf) should not take any rent from any deserving person alighting therein.
It should be noted here that more than half of the Katra building has already been destroyed and the building as a whole is in a dilapidated condition. It could not be taken over by the Department of Archaeology owing to the resistance of its owners. The owners have made several alterations to the original character of the building and have also started construction of a new multi-storeyed building in the area. Nevertheless, the surviving ruins stand as one of the most important monuments of Bengal. It is perhaps the most magnificent Mughal edifice of Bangladesh which has a monumental central archway. [Ayesha Begum]