Barhatta Upazila (netrokona district) area 221.50 sq km, located in between 24°51' and 25°00' north latitudes and in between 90°46' and 91°00' east longitudes. It is bounded by kalmakanda and dharmapasha upazilas on the north, atpara and mohanganj upazilas on the south, mohanganj and Dharmapasha upazilas on the east, netrokona sadar upazila on the west.
Population Total 158133; male 81026, female 77107; Muslim 138715, Hindu 19268, Buddhist 21 and others 123.
Water bodies Main rivers: Kangsha, Kaonal, Someshwari; Nimalkola, Makra, Changjian, Saidigha, Rupsa Changjan and Dharam beels are notable.
Administration Barhatta Thana was formed in 1905 and it was turned into an upazila in 1983.
Upazila
Municipality
Union
Mouza
Village
Population
Density (per sq km)
Literacy rate (%)
Urban
Rural
Urban
Rural

-

7

147

238

6979

151154

714

60.0

32.0
Upazila Town

Area
(sq km)

Mouza

Population

Density
(per sq km)

Literacy rate (%)

3.28

3

6979

2128

60.0
colspan="5" | Union
Name of union and GO code
Area (acre)
Population
Literacy rate (%)
Male
Female

Asma 11

7353

9107

8573

29.28

Chhiram 47

7223

8269

7730

29.25

Baushi 35

7111

11627

11206

33.47

Roypur 59

7814

11551

11018

34.96

Barhatta 23

8604

15811

14813

39.86

Sahata 71

8819

13303

12820

31.36

Singdha 83

7424

11358

10947

30.96
Source Bangladesh Population Census 2001, Bangladesh Bureau of Statistics.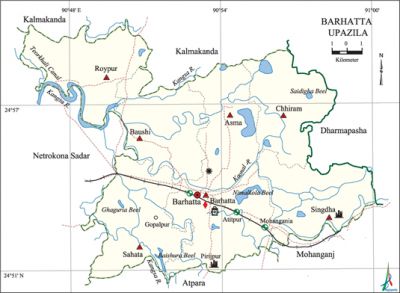 Archaeological heritage and relics Twin pond at village Amghail Pirijpur, Deva Mandir at Singdha, dilapidated building at Saoudpur (Mughal period).
History of the War of Liberation In the beginning of the war of liberation the freedom fighters destroyed the Thakurkona Railway Bridge, located on the western extremity of the upazila, by explosion thereby disrupting the entry of the Pak army. At the end of the War, the freedom fighters attacked the Barhatta police station and the encounter that followed caused a number of civilians dead. Barhatta upazila was liberated on 8 December 1971.
Marks of the War of Liberation In memory of martyr Mukshed Mia the road running from Barhatta to Chandrapur has been named 'Shahid Mukshed Road'.
Religious institutions Mosque 164, temple 65, tomb 6.
Literacy rate and educational institutions Average literacy 33.04%; Male 36.00%, female 30.60%. Noted educational institutions: Barhatta CKP High School (1914), Baushi Aurdhachandra High School (1939), Hafiz Uddin High School (1960), Nischintapur High School (1966).'
Newspapers and periodicals Monthly Makorsa.
Cultural organisations Library 1, club 30, theatre group 1, women's organisation 1, playground 14.
Main sources of income Agriculture 73.53%, non-agricultural labourer 2.85%, industry 0.56%, commerce 11.51%, transport and communication 1.85%, service 2.27%, construction 0.69%, religious service '0.27%, rent and remittance 0.16% and others 6.31%.
Ownership of agricultural land Landowner 60.29%, landless 39.71%; agricultural landowner: urban' 57.07% and rural 60.51%.
Main crops Paddy, jute, potato, kalai, mustard, vegetables.
Extinct or nearly extinct crops Tobacco, linseed, sesame, Khesari, Masuri.
Main fruits Mango, black berry, jackfruit, banana, papaya, guava, watermelon, plum.
Fisheries, dairies and poultries Fishery 38, dairy 13, poultry 280.
Communication facilities Pucca road 50 km, semi-pucca road 35 km, mud road 117 km.
Extinct or nearly extinct traditional transport Palanquin, horse carriage.
Noted manufactories Rice mill, saw mill, ice factory, welding factory.
Cottage industries Goldsmith, blacksmith, potteries, embroidery, wood work, bamboo work.
Hats, bazars and fairs Hats and bazars are 14, fairs 2, most noted of which are Golpur, Baushi, Geria, Naihati, Nischintapur, Monaz bazars and Aushtami Tithi Mela.
Main exports Paddy, rice, fish, egg.
Access to electricity All the unions of the upazila are under rural electrification net-work. However 11.97% of the dwelling households have access to electricity.
Sources of drinking water Tube-well 90.07%, tap 2.22%, pond 1.90% and others 5.82%. The presence of arsenic has been detected in shallow tube-well water of this upazila.
Sanitation 16.45% (rural 14.15% and urban 64.41%) of dwelling households of the upazila use sanitary latrines and 65.90% (urban 67.49% and rural 32.49%) of dwelling houses use non-sanitary latrines; 17.65% of households do not have latrine facilities.
Health centres Upazila health complex 1, satellite clinic 1, family planning centre 6, health and family planning centre 7.'
NGO activities brac, asa, Bangladesh Nari Progoti Sangha. [Md. Abdus Shahid]
References Bangladesh Population Census 2001, Bangladesh Bureau of Statistics; Cultural survey report of Barhatta Upazila 2007.