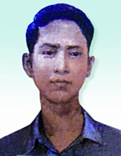 Barkat, Abul (1927-1952) a martyr of language movement. Abul Barkat nicknamed Abai was born on 13 June (variantly 16 June) 1927 at village Babla in Bharatpur thana of Murshidabad district. His father was Shamsuzzoha and mother Hasina Bibi. Abul Barkat had his early education at Babla Primary School. He passed Matriculation examination from Talibpur High School in 1945, and Intermediate examination from Bahrampur Krishnanath College in 1947. After the partition of India he came to Dhaka in 1948. He obtained BA (Hons) degree in Political Science from Dhaka University in 1951 and got himself admitted into MA final year.
In 1952, when the language movement demanding recognition of Bangla as one of the state languages of Pakistan was at its height, the government clamped Section 144 of criminal procedure code in Dhaka city in order to contain student agitation.
Abul Barkat was in the procession that students mobilised on the premises of the Dhaka Medical College hostel on 21 February. When the police fired on the gathering, Barkat was seriously injured. He was immediately carried to the emergency ward of the Dhaka Medical College Hospital where he died at about 8 P.M. He was laid to rest in Azimpur graveyard.
In recognition of his sacrifice, Abul Barkat was awarded Ekushey Padak (posthumously) in 2000 AD. [Rozina Kader]