Bauphal Upazila (patuakhali district) area 486.91 sq km, located in between 22°19' and 22°36' north latitudes and in between 90°25' and 90°40' east longitudes. It is bounded by bakerganj and bhola sadar upazilas on the north, dashmina and galachipa upazilas on the south, Bhola Sadar, burhanuddin and lalmohan upazilas on the east, patuakhali sadar and Bakerganj upazilas on the west.
Population Total 304959; male 152384, female 152575; Muslim 78517, Hindu 26398, Buddhist 17 and others 27.
Water bodies Main rivers: tentulia and Kalaiya.
Administration Bauphal Thana was formed in 1874 and it was turned into an upazila in 1983.'
Upazila
Municipality
Union
Mouza
Village
Population
Density (per sq km)
Literacy rate (%)
Urban
Rural
Urban
Rural

1

14

134

146

14672

290287

626

62.2

52.1
Upazila Town

Area
(sq km)

Mouza

Population

Density
(per sq km)

Literacy rate (%)

7.85

2

14672

1869

62.20
Union
Name of union and GO code
Area (acre)
Population
Literacy rate (%)
Male
Female

Adabaria 5

6224

7389

7776

49.24

Kanakdia 65

6379

10068

10871

59.40

Kanchipara 47

6477

8288

8814

58.77

Kalaiya 53

11699

13241

12355

44.47

Kalisuri 59

6735

11387

11797

62.39

Keshabpur 71

8904

13449

13131

51.48

Daspara 35

5522

11986

11867

48.40

Dhulia 41

6567

8375

7923

54.39

Noamala 83

6353

9443

9164

52.79

Nazirpur 89

13356

14021

14253

38.04

Baga 11

7041

11231

11176

51.85

Bauphal 29

7237

14690

13739

57.82

Madanpura 77

5488

9120

9158

58.34

Surjyamani 95

6181

9696

10551

53.89



Source Bangladesh Population Census 2001, Bangladesh Bureau of Statistics.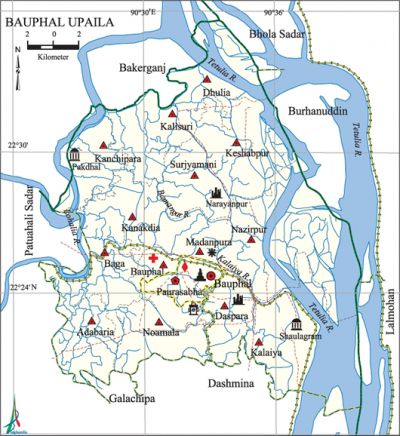 Archaeological heritage and relics Kuthibari of Ghaseti Begum (Shaula, 1757), Pakdal Mian-bari Mosque, Bauphal Central Kalibari Mandir (1875), Kachari (revenue office) of Rajendra Mahendra Babu, Kachari of Som at Daspara, Tomb of Syed Arefin at Kalisuri, Asram (monastery) of Mahendra Pagla at Bauphal, Dargah of Tamir at Kalaiya, Mithapukur (Daspara), Kanai Balai Dighi, Kamala Rani Dighi, Tomb of Sultan Fakir (Bauphal), Dol Samudra Dighi, Black hole at Sikdarbari of Madanpura, Rajapur wall, Nurainpur Rajbari.
History of the War of Liberation At the initial stage of the war of liberation the freedom fighters created resistance against the Pak army in different places of the upazila. The freedom fighters were organised at Kanchipara of the upazila under MA Mazid Bachhu Miah, and conducted armed resistance against the Pak army. On 25 May 1971 a gun boat carrying Pak army from Patuakhali was forced to retreat in the face of resistance by the freedom fighters. The freedom fighters, in collaboration with the general people, conducted a number of direct attacks and guerrilla operations against the Pak army. On 5 June 1971 the freedom fighters under Pancham Ali attacked the rajakar camp at Kalisuri Bandar and killed a number of rajakars. The freedom fighters attacked a motor launch carrying Pak army at Kalisuri Bandar and killed a number of Pak soldiers and rajakars. The Pak army killed 35 persons at Madanpura and Dhulia; they also set many houses on fire.
Religious institutions Mosque 750, temple 160, tomb 2, dargah 1, asram 1, Hindu sacred place 1. Noted religious institutions: Tomb and Mosque of Syed Arefin at Kalisuri, Tomb of Mawlana Elahi at village Shaula, Rajbari Temple at Kachua.
Literacy rate and educational institutions Average literacy 52.6%; male 56.5%, female 48.8%. Educational institutions: science and technology university 1, college 10, polytechnic institute 1, nursing institute, secondary school 59, primary school 122, madrasa 72. Noted educational institutions: Patuakhali Science and Technology University, Bauphal Degree College (1966), Kanchipara Mohammad Abdur Rashid Miah Degree College (1995), Keshabpur College (1972), Madhabpur Diploma College (2005), Engineer Faruk Talukdar Mahila College (1997), Bauphal Secondary School (1885), Bauphal High School (1919), Birpasha Secondary School (1921), Kanchipara Secondary School (1928), Dhulia Secondary School (1938), Baga Union Secondary School (1950), Bharipasha Secondary School (1950), Obaidia Senior Madrasa (1930).
Newspapers and periodicals Fortnightly: Tentulia (defunct).
Cultural organisations Club 37, library 1, women's organisation 30, sports association 20, artist group 2, press club 1, theatre group 1, music school 1, cinema hall 3, community centre 8.
Noted tourist spots Capital of Chandradeep Kingdom (Bakla-Kachua), transferred capital (Rajnagar), Kazi Bari, paternal home stead of ak fazlul huq (Beelbilas), Kamala Rani Dighi, Kuthibari of Ghaseti Begum (on the bank of the river Tentulia) and Kanai Balai Dighi (Kanchipara).
Main sources of income Agriculture 48.52%, non-agricultural labourer 5.56%, industry 1.11%, commerce 14.46%, transport and communication 1.79%, service 11.94%, construction 3.16%, religious service 0.21%, rent and remittance 0.32% and others 12.93%.
Main crops Paddy, jute, potato, pulses, gram, chilli, oil seed, peanut, betel leaf, coriander, vegetables.
Main fruits Mango, jackfruit, coconut, papaya, betel nut, lemon.
Fisheries, dairies and poultries This upazila has a number of fisheries, dairies and poultries.'
Communication facilities Pucca road 180 km, semi-pucca road 60.22 km; bridges 290; culverts 415.
Extinct or nearly extinct traditional transport Palanquin.
Noted manufactories Jute mill, ice factory, rice mill, saw mill, brick field, welding factory.
Cottage industries Goldsmith, potteries, weaving, bamboo work, cane work.
Hats, bazars and fairs Hats and bazars are 44, fairs 4, most noted of which are Kalaiya Hat, Kalisuri Hat, Baga Hat, Baherchar Hat, Kanakdia Hat, Narayanpur Hat, Bilbilas Hat, Bauphal Bazar, Adabaria Hat, Mominpur Hat, Dhulia Bazar, Kanai-Balai Dighir Parer Mela at Kanchipara.
Main exports Paddy, rice, pulses, chilli, leather, potteries, fish.
Access to electricity All the wards and unions of the upazila are under rural electrification net-work. However 22.16% (urban 32.07% and rural 21.68%) dwellings have access to electricity.'
Natural resources' Fish and forest resources.
Sources of drinking water Tube-well 88.67%, pond 7.51%, tap 0.24% and others 3.58%.
Sanitation 14.86% (rural 13.74% and urban 37.88%) of dwelling households of the upazila use sanitary latrines and 76.92% (rural 77.70% and urban 60.95%) of dwelling households use non-sanitary latrines; 8.22% of households do not have latrine facilities.
Health centers Upazila health complex 1, hospital 1, satellite clinic 4, family welfare center 18, shishu sadan 4, veterinary hospital 1.
Natural Disasters The devastating cyclones of 1584 and 1822, and the flood of 1876 caused huge loss of life and damage to settlements, livestock and properties.
NGO activities asa, brac, CARE, RDS, DANIDA. [Rabindranath Das]
References Bangladesh Population Census 2001, Bangladesh Bureau of Statistics; Cultural survey report of Bauphal Upazila 2007.