Bayejid Bostami Thana (Chittagong metropolitan) with an area of 17.58 sq km is located in between 22°22' and 22°28' north latitudes and in between 91°46' and 91°51' east longitudes. It is bounded by hathazari upazila on the north, Hathazari upazila and chandgaon thana on the east, khulshi and panchlaish thanas on the south and sitakunda Upazila on the west.
Population Total 168591; male 95369, female 72682, Muslim 156575, Hindu 10484, Buddhist 135, Christian 748 and others 109.
Administration Bayejid Bostami Thana was established on 27 May 2000 comprising parts of pahartali and Panchlaish thanas and Hathazari Upazila.
Thana
Ward and Union
Mahalla and Mouza
Population
Density (per sq km)
Literacy rate (%)
Urban
Rural
Urban
Rural
3
12
168051
-
9559
59.5
-
Ward
Ward
Area (sq km)
Population
Literacy rate (%)
Male
Female
Ward No. 1
4.67
28377
16216
61.80
Ward No. 2
6.48
42283
34871
60.40
Ward No. 3
6.43
24709
21595
55.90
Source  Bangladesh Population Census 2001, Bangladesh Bureau of Statistics.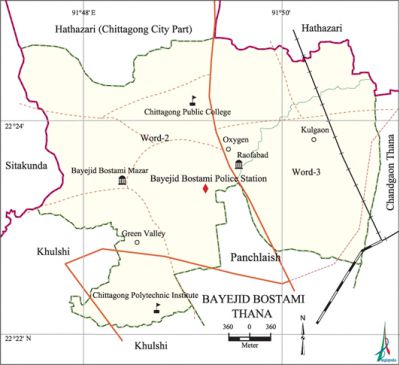 Historical events On 22 April 1930, eleven revolutionaries were killed in an encounter with the British army at Jalalabad Hill.
Religious institutions Mosque 38, temple 3, Mazar 1. Noted religious institutions are Wazedia Jami Mosque, Hazir Pool Jami Mosque, Baluchhara Jami Mosque, mazar of Bayejid Bostami (R).'
Literacy rate and educational institutions Average literacy 59.50%; male 63.90%, female 53.60%. Educational institutions:' college 3, high school 10, primary school 10, madrasa 5; noted educational institutions are Cantonment Public School and College, Ashekan Awlia Degree College, Kulgaon Girls' High School, Panchlaish City Corporation High School and College and Muhammadia Hafejul Ulm Senior Madrasa.'
Noted establishments Chittagong Cantonment, Sultan Nagar, Nasirabad Industrial Area, Sher Shah Colony and Nasirabad Housing Society. Besides, a park or amusement centre has been built on private initiative in this thana.
Main sources of income Agriculture 3.09%, non-agricultural labourer 2.77%, industry 4.81%, commerce 15.12%, transport and communication 8.05%, construction 3.25%, religious service 0.32%, employment 43.36%, rent and remittance 4.79% and' others 14.44%.
Ownership of agricultural land Land owner 26.26%, landless 73.74%|
Manufactories 45; noted manufactories are Crown Group, KDS Group, Chowdhury Group, Amin Textile Mills, Amin Jute Mills, etc.
Noted hats, bazars and shopping complex Bayejid Bostami Bazar, Oxygen Bazar, Baluchhara Bazar, Battali Bazar and Bayejid Shopping Complex.
Access to electricity All the wards of the thana are under electricity net-work; however 81.41% of dwelling households have access to electricity.
Sources of drinking water Tube-well 68.64%, pond 1.62%, tap 25.96% and others 3.78%.
Sanitation 72.95% of the dwelling households use sanitary latrines and 23.41% use non-sanitary latrines; 3.64% of households do not have sanitation facilities.
Health centres Combined Military Hospital (CMH), Sunrise Clinic. [Md. Abdul Baten]
References Bangladesh Population Census 2001, Bangladesh Bureau of Statistics.