Beanibazar Upazila (sylhet district) area 253.22 sq km, located in between 24°45' and 24°57' north latitudes and in between 92°03' and 92°15' east longitudes. It is bounded by kanaighat and zakiganj upazilas on the north, barlekha on the south, Zakiganj upazila and assam (India) on the east, golapganj upazila on the west. The upazila has 12.01 km long international boundary with India. Total forest area is 15.54 sq km; Tilas (hillocks) 170.
Population Total 210673; male 104556, female 106117; Muslim 202800, Hindu 7776, Buddhist 8, Christian 21 and others 68.
Water bodies Main rivers: surma, kushiyara and Sonai; Kalauchi and Sada canals are notable.'
Administration Beanibazar' Thana was formed in 1938 and it was turned into an upazila in 1983.'
Upazila
Municipality
Union
Mouza
Village
Population
Density (per sq km)
Literacy rate (%)
Urban
Rural
Urban
Rural




1

11

145

183

18245

192428

832

59.03

51.90
Upazila Town

Area
(sq km)

Mouza

Population

Density
(per sq km)

Literacy rate (%)

7.28

4

18245

2506

59.03
Union
Name of union and GO code
Area (acre)
Population
Literacy rate (%)
Male
Female




Alinagar 08

5709

8474

8653

51.09

Kurar Bazar 43

4155

11373

11404

53.16

Charkhai 25

9055

13159

13392

49.71

Tilpara 94

6463

7525

8270

50.76

Dobhag 34

6312

9646

9630

52.49

Beanibazar 17

2526

11779

11209

59.08

Mathiura 60

3671

5520

5883

60.33

Muria 77

8824

11255

11068

50.11

Mollahpur 14

3852

8550

8512

54.88

Lauta 51

4803

8643

8889

46.72

Sheola 86

6740

8632

9207

51.40
Source Bangladesh Population Census 2001, Bangladesh Bureau of Statistics.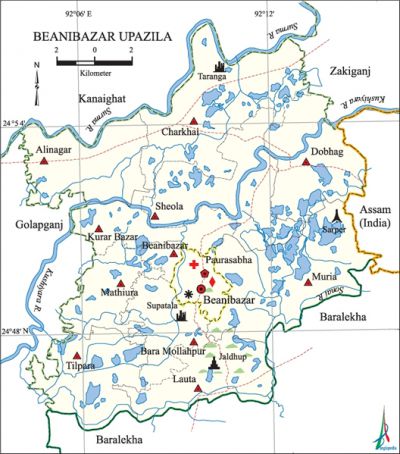 Archaeological heritage and relics Sree Sree Basu Deva Bari (house) and Basu Deva image (made of black basalt) at village Supatala, six out of seven pieces of copper plates of king Bhaskar Barma (7th century) and an imperial elephant embossed stamp, ruins of Rajbari at Tengra.
History of the War of Liberation During the war of liberation the Pak army used to capture innocent persons from different places of the upazila and killed them at mass killing sites atthe backyard of the Dak bungalow of the thana sadar, thana compound and the present Shahid Tila area.
Marks of the War of Liberation Mass killing site 4 (backyard of the Dak bungalow, Thana Compound, Shahid Tila and Sarpar Camp); mass grave at C&B road. 'After the war of liberation a memorial monument has been constructed here; this place is popularly known as Shahid Tila.
Religious institutions Mosque 388, temple 19, sacred place 1, tomb 7. Noted religious institutions: Patan Baghmara Jami Masjid, tomb of Golab Shah (Bashba known as 'Imam Bari'), Shree Shree Kali Mandir, Shree Shree Mahapravhu Bigraha Akhra (Jaldhup).
Literacy rate and educational institutions Average literacy 52.52%; male 55.60%, female 49.60%. Educational institutions: college 4, secondary school 34, primary school 134, community school 6, kindergarten 4, madrasa 345. Noted educational institutions: Lauta High School (1871), Panchakandha Hargovinda High School (1917), Khasa Government Primary School (1895), Jaldhup Government Primary School (1909).
Newspapers and periodicals Weekly: Beanibazar Barta, Dibalok, Nabadwip, Agami Projanma, Saptaha, Samvabona.
Cultural organisations Club 75, library 2, community centre 13,' women's organisation, playground 15.
Noted installations and tourist spots Beanibazar Gas Field, Baro Haler Dighi, Tomb of Golab Shah.'
Main sources of income Agriculture 26.39%, non-agricultural labourer 6.80%, industry 0.78%, commerce 12.20%, transport and communication 3.09%, service 4.16%, construction 3.74%, religious service 0.51%, rent and remittance 28.37% and others 13.96%.
Main crops Paddy, potato, sesame, cassia leaf.
Extinct or nearly extinct crops Mustard seed, linseed, arahar, ground nut.
Main fruits Jackfruit, orange, litchi, guava, satkora, amloki, olive, shaddock.
Fisheries, dairies and poultries This upazila has a number of fisheries, dairies and poultries.'
Communication facilities Pucca road 130 km, semi-pucca road 20 km, mud road 336 km.
Extinct or nearly extinct traditional transport Palanquin, bullock cart, horse carriage.
Noted manufactories Ice-cream factory 21, rice mill 55, saw mill 25, welding factory 41.
Cottage industries Goldsmith 50, blacksmith 40, potteries 10, bamboo and wood work 104, tailoring 201, wool knitting 5, leather work 1.
Hats, bazars and fairs Hats and bazars are 38, fairs 3, most noted of which are Beanibazar, Mathiura (Vatar) Bazar, Bairagi Bazar, Thana Bazar at Jaldhup, Rath Jatrar Mela of Vasudev Bari and Deulgram Akhra Mela.
Main exports Orange, jackfruit, cassia leaf, gas.
Access to electricity All the wards and unions of the upazila are under rural electrification network. However 51.42% dwellings have access to electricity.
Natural resources Natural gas.
Sources of drinking water Tube-well 79.79%, tap 2.37%, pond 13.28% and others 3.70%.
Sanitation 60.46% (urban 74.46% and rural 59.13%) of dwelling households of the upazila use sanitary latrines and 36.08% (urban 24.41% and rural 37.19%) of dwelling houses use non-sanitary latrines; 3.45% of households do not have latrine facilities.'
Health centres Upazila health centre 1, family planning centre 4, union health centre 5.
NGO activities brac, asa, CARE. [Azizur Rahman]
References Bangladesh Population Census 2001, Bangladesh Bureau of Statistics; Cultural survey report of Beanibazar Upazila 2007.