Belaichhari Upazila (rangamati district) area 745.92 sq km, located in between 21°54' and 22°33' north latitudes and in between 92°17' and 92°36' east longitudes. It is bounded by juraichhari and rangamati sadar upazilas on the north, ruma and thanchi upazilas on the south, Mizoram (India) and Myanmar on the east, kaptai, rajasthali and rowangchhari upazilas on the west.
Population Total 24154; male 13232, female 10922; Muslim 3658, Hindu 454, Buddhist 3309, Christian 16729 and others 4. Indigenous communities such as chakma, marma, tanchangya, tripura, bawm, pankho, chak, Riang Khumi and Mro belong to this upazila.
Water bodies Main river: Rainkhiang.
Administration Belaichhari Thana was formed in 1976 and it was turned into an upazila in 1983.
Upazila
Municipality
Union
Mouza
Village
Population
Density (per sq km)
Literacy rate (%)
Urban
Rural
Urban
Rural

-

3

9

59

2151

22003

32

53.9

23.9
Upazila Town

Area
(sq km)

Mouza

Population

Density
(per sq km)

Literacy rate (%)

10.36

1

2151

208

53.9
colspan="5" | Union
Name of union and GO code
Area (acre)
Population
Literacy rate (%)
Male
Female

Kangara Chhari 71

25600

2727

2397

35.31

Farua 47

137600

6545

5447

15.07

Belaichhari 23

21120

3960

3078

50.27
Source Bangladesh Population Census 2001, Bangladesh Bureau of Statistics.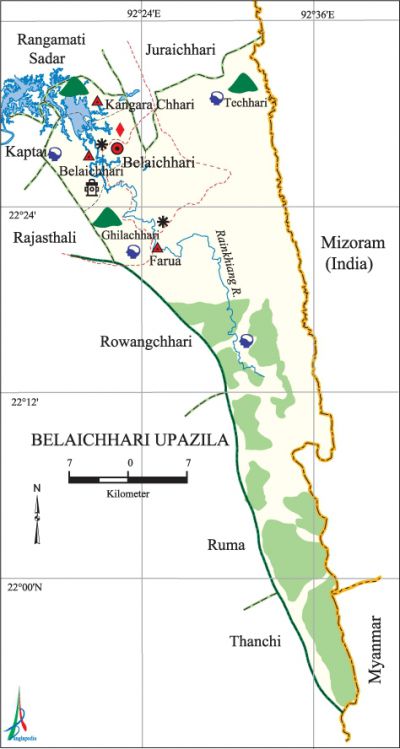 Historical events Once tribal insurgencies were regular features in this upazila. After the defeat of Pak army in 1971in the hands of the freedom fighters, about 2000 tribal rajakars joined the rebel Mizos of the tribal area. Manabendra Narayan Larma took their lead and later formed the shanti bahini. In order to resist the activities of the Shanti Bahini the Farura outpost was established in the border area. Later on Shanti Bahini and the Jana Sanhati Samity shifted their main camp to Tripura; as a result the importance of the Farura outpost was minimized and it was included with the Belaichhari Thana. Besides, about 30 thousand people were killed in encounters with the Shanti Bahini.
Religious institutions Mosque 16, temple 2, buddhist temple 33, church 5.
Literacy and educational institutions Average literacy 26.7%; male 35.6%, female 15.6%. Educational institutions: secondary school 2, primary school 2, madrasa 1.
Main sources of income Agriculture 73.79%, non-agricultural labourer 2.92%, commerce 9.29%, service 5.82%, construction 0.44%, religious service 0.20%, rent and remittance 0.22% and others 7.32%.
Ownership of agricultural land Landowner 56.02%, landless 43.98%; agricultural landowner: urban 28.30% and rural 58.79%.
Main crops Paddy, hilly potato, cotton, ginger.
Main fruits Jackfruit, banana, pineapple.
Fisheries, dairies and poultries This upazila has a number of fisheries, dairies and poultries.'
Communication facilities Pucca road 9.61 km, mud road 557.59 km.
Cottage industries Goldsmith, blacksmith, weaving, bamboo work, cane work.
Noted Hats, bazars and fairs Belaichhari Sadar Bazar, Farua Bazar, Kangara Chhari Bazar.
Main exports Banana, cotton, ginger, jackfruit, wood, bamboo and cane products.
Access to electricity All the unions of the upazila are under rural electrification net-work. However 3.71% dwellings have access to electricity.
Sources of drinking water Tube-well 22.18%, tap 0.35%, pond 1.98% and others 75.49%.
Sanitation 12.12% (urban 45.08% and rural 8.83%) of dwelling households of the upazila use sanitary latrines and 60.05% (urban 36.69% and rural 62.39%) of dwelling houses use non-sanitary latrines; 27.82% of households do not have latrine facilities.
Health centres Upazila health complex 1. [Atikur Rahman]
References Bangladesh Population Census 2001, Bangladesh Bureau of Statistics; Cultural survey report of Belaichhari Upazila 2007.