Bengal Past and Present the journal of the Calcutta Historical Society was first published in 1907. The oldest historical society in South Asia, Calcutta Historical Society was founded by some leading Englishmen of Calcutta to 'feed their nostalgia about Calcutta' on 27 April 1907 at the Town Hall with Sir Francis Maclean, the then Chief Justice of Calcutta High Court, as the President.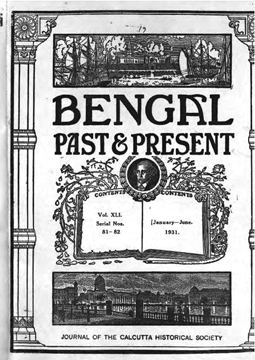 In their attempt to preserve the memories of Calcutta and to collect the material for a full and lasting history of the city, members of the society stressed on the need for preserving the ancient institutions, and historical monuments and buildings in Calcutta. Walter K Firminger was the first editor of the society's journal. Besides the commercial and economic history of the city it was expected to carry essays on the city's old houses, buildings, educational institutions and its communities.
At its inception Bengal Past and Present was intended to preserve the British memory of Calcutta as the seat of the British Empire in India. In its early issues, essays and entries about Calcutta's buildings and institutions, business and companies, schools, colleges, hospitals, roads, gardens, sports, clubs, barmaids, actresses, and memorable events (for instance the great cyclone of 1842) figured prominently. Indeed the Bengal Past and Present in its early years had an antiquarian dressing, even though the essays made interesting reading.
The journal however began to change its character with the growing professionalism of the discipline of history as full-fledged history courses began to be taught in the universities. Soon it emerged as an academic journal of modem Indian and Asian history. The responsibility of editing was slowly taken over by professional historians, some of whom, like Professors Narendra Krishna Sinha or Pratul Chandra Gupta, were University professors with some eminence.
The changing historiographical concerns of South Asian historians were adequately reflected in its pages. Usually there has been a greater concentration on the history of the colonial period. In spite of this limitation, the journal made a seminal contribution to the development of the discipline of modem Indian history; and historians, moving out of the limited confines of political history, gave due emphasis on economic life, social formation and popular movements. Scholars like Jogesh Chandra Sinha, Narendra Krishna Sinha, Amalesh Tripathi, Aswin Dasgupta and Binay Bhusan Choudhury, to name only a few, made their first appearance in this journal.
Well-known overseas scholars in the field of Indian history contributed regularly to the journal. In recent times the journal has been able to mirror the new interest among historians in the history of Indian nationalism and social structures alongside a fair representation of the history of crime, crowd behaviour, labour and women. The Bengal Past and Present has continued to maintain the rich tradition of historical scholarship in the city of Kolkata. The 125th volume of the journal has been published in the year 2006. [Bhaskar Chakrabarti]