Betagi Upazila (barguna district) area 167.75 sq km, located in between 22°13' and 22°29' north latitudes and in between 90°04' and 90°15' east longitudes. It is bounded by bakerganj and rajapur upazilas on the north, barguna sadar upazila on the south, mirzaganj upazila on the east, Kanthalia and bamna upazilas on the west.
Population Total 119356; male 60067, female 59289; Muslim 107110, Hindu 11983, Buddhist 236 and others 27.
Water bodies Main rivers: bishkhali, Gajalia; Katakhali and Karuna canals are notable. Administration Betagi Thana was formed in 1920 and it was turned into an upazila in 1983.
Upazila
Municipality
Union
Mouza
Village
Population
Density (per sq km)
Literacy rate (%)
Urban
Rural
Urban
Rural

1

7

59

73

10855

10851

711

73.05

58.13
Municipality

Area
(sq km)

Ward

Mahalla

Population

Density
(per sq km)

Literacy rate
(%)

4.1

9

9

8368

449

76.9
Upazila Town

Area
(sq km)

Mouza

Population

Density
(per sq km)

Literacy rate
(%)

3.62

2

2487

687

69.21
Union
Name of union and GO code
Area (acre)
Population
Literacy rate (%)
Male
Female

Kazirabad 59

4863

7690

7274

61.12

Bibichini 23

5692

8549

8982

51.83

Bura Mazumdar 35

5466

7552

7021

58.77

Betagi 11

6046

8286

8416

58.48

Mokamia 71

4784

7302

7315

61.68

Sarishamuri 83

5596

7277

7584

54.50

Hosnabad 47

6301

9004

8736

62.48
Source Bangladesh Population Census 2001, Bangladesh Bureau of Statistics.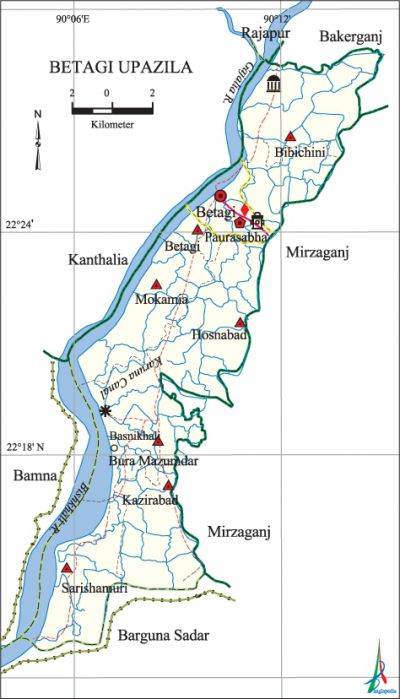 Archaeological heritage and relics Bibichini Shahi Mosque.
History of the War of Liberation During the war of liberation heavy damages to properties were caused when the Pak army set the eastern extremity of Betagi Bazar on fire. A number of Pak soldiers and rajakars were killed in a frontal encounter between the freedom fighters and the Pak army at Badnikhali Bazar of Bura Mazumdar union. In this encounter the motor launch MV Munir carrying the Pak army was seriously damaged.
Religious institutions Mosque 460, church 1, tomb 4, sacred place 2.
Literacy rate and educational institutions Average literacy 59.72%; male 62.9%, female 56.5%. Educational institutions: college 7, secondary school 22, primary school 140, madrasa 58. Noted educational institutions: Betagi Degree College (1999), Betagi Business and Tecnical College (2004), Nurjahan Business and Tecnical College (2004), Kaunia Emdadia secondary school (1906), Betagi Secondary School (1941), Chandkhali Secondary School (1959), Lakshmipur Rahmatia Secondary School, Mokamia Fazil Madrasa (1935).
Newspapers and periodicals Fortnightly: Bishkhali, Betagir Kantha; Defunct: Betagir Kantha.
Cultural organisations Library 2, club 32, literary group 2, women's organisation 2, cinema hall 2.
Main sources of income Agriculture 61.29%, non-agricultural labourer 3.04%, industry 0.44%, commerce 13.33%, transport and communication 1.37%, service 8.94%, construction 1.55%, religious service 0.19%, rent and remittance 0.24% and others 9.61%.
Main crops Paddy, wheat, corn, potato, khesari, mug, ground nut, vegetables.
Extinct or nearly extinct crops Jute, sesame, mustard.
Main fruits Banana, jackfruit, mango, coconut, hog-plum, papaya, Palmyra-fruit, wood-apple.
Fisheries, dairies and poultries Dairy 15, poultry 17, hatchery 2.
Communication facilities Pucca road 42 km, semi-pucca road 12 km, mud road 355 km.
Extinct or nearly extinct traditional transport Palanquin.
Noted manufactories Rice mill, saw mill, ice factory, storage battery workshop.
Cottage industries Goldsmith, blacksmith, wood work, embroidery, bamboo and cane work.
Hats, bazars and fairs Hats and bazars are 18, fairs 3, most noted of which are Badnikhali Hat, Kazir Hat, Mollar Hat, Kaunia Hat; Betagi Bazar, Mokamia Bazar, Chandkhali Bazar and Kabirajbari Mela and Bura Majumdar Kacharibari Mela.
Main exports Paddy, rice, khesari, banana.
Access to electricity All the wards and unions of the upazila are under rural electrification net-work. However 19.21% of the dwelling households have access to electricity.
Sources of drinking water Tube-well 92.2%, tap 0.15%, pond 4.93% and others 2.72%.
Sanitation 58.47% (rural 55.84% and urban 84.56%) of dwelling households of the upazila use sanitary latrines and 35.77% (rural 37.99% and urban 13.75%) of dwelling households use non-sanitary latrines; 5.77% of households do not have latrine facilities.
Health centres Upazila health centre 1, satellite clinic 7, union health and family welfare centre 7, family planning centre 1.
NGO activities Operationally important NGOs are brac, asa. [Saidul Islam Mantu]
References Bangladesh Population Census 2001, Bangladesh Bureau of Statistics; Cultural survey report of Betagi Upazila 2007.