Bethune, John Elliot Drinkwater
Bethune, John Elliot Drinkwater (1801-1851) born on 12 July 1801 in Cheshire Bethune was the son of Col. John Drinkwater of Sanford, who had earned fame as the author of The Siege of Gibraltar. His mother, Eleanor Congalton, was an erudition lady. Bethune, a man of enlightened mind and liberal outlook had deep love and respect for his mother, and it was on her request that John took his mother's family name 'Bethune' for his own. A brilliant student, young John showed interest both in science and literature, was educated at Westminster School. He graduated as a wrangler from Trinity College, Cambridge, in 1823 and later qualified for the Bar in 1827, to secure an administrative position in the Parliament. Also a linguist he was proficient in Greek, Latin, German, French and Italian and earned fame as a poet. Bethune was invited by Francis Bethie to stand forth as his junior in the famous appeal case against Lord Bentinck's `Suttee Prevention Law of 1829. As Bethie's junior, Bethune placed the petition before the Privy Council in August, 1831, which was dismissed. This was Bethune's first exposure on India and its problems. He deeply regretted being on the side of a reactionary group that was trying to perpetuate an inhuman cause. A remorseful Bethune was advised by his mother to render a lasting service to the cause of betterment of the condition of women in India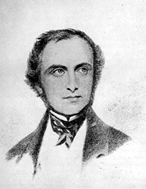 His career as a lawyer was short lived, but his talent and sense of justice induced Lord Gray to appoint him as a counsel to the Home Office. Bethune during this time was associated with the drafting of some of the important legislative measures adopted by the government. Until Bethune's arrival in India, the East India Company took little initiative to introduce female education in the country. Nevertheless, a movement for institutionalised female education had started, culminating in the setting up of a girl's school under the enterprise and patronage of a few young men. As Bethune was aware of the suffering and deprivation of women in this country, he was eager to impart formal education to the girls which according to him would enable them to be `better wives and better mothers in their homes'.
With a view to providing enlightenment to the girls of Bengal, he established contacts with like-minded persons like Ramgopal Ghosh and Dakshinaranjan Mukherjee with the latter, readily offering his house at Sukea Street in Bahirsimulia for Bethune's proposed school. These gentlemen convinced some respectable members of the Hindu society about the importance of the introduction of schools for girls and also secured their consent to the effect that they would send their daughters to the proposed school. Bethune knew that the earlier attempts on the part of missionary ladies to enroll girls from upper caste Hindu families, had met with failure. These missionary schools had drawn up students from among the lower castes belonging to the poorer sections of society. For these students the attraction was not just education, but pecuniary and otherwise. Bethune emphasized that the new school would admit girls of `respectable families' only. A committee was to be formed with some guardians to scrutinize the names of the girls to be admitted. The medium of instruction was to be Bengali. English was to be introduced if specifically asked for by the guardians.
Although Bethune held a very high position in the Company's government, he preferred to follow his mission privately. He thus planned to shoulder the entire financial responsibility of the Hindu Female School as it was officially known, from his own account. This historic school started functioning at 7 am on the morning of May 7, 1849. The story of this inauguration was reported in most of the leading English and Bengali newspapers of the Bengal presidency. It is interesting to note that Bethune did no invite any European on this occasion. Bethune had eloquently summed up the need for girl's education and had declared that several committees would be set up to look into school administration, preparation of curriculum, textbooks and finally to monitor admission of girls. All these committees were to have guardian representatives. The prestige of Bethune Sahib's school as it was popularly known, was enhanced further when at his request Vidyasagar accepted, in 1850, the responsibility of being its secretary. With Vidyasagar's assistance Bethune succeeded in persuading a few dedicated Hindu leaders like Raja Kalikrishna Bahadur to join the school committee.
On the day, when the foundation stone was laid, Bethune exclaimed, 'I believe this is the beginning of a revolution... We have succeeded and the banner which we plant this day will never go backwards. John Drink water Bethune died an untimely death on 12 August 1851 in Calcutta. Although he did not live to see the stately edifice with its open terrace, tall columns and the spacious marble hall that housed the Bethune school and later on made way for the Bethune College as well, there is no doubt that he had created an institutional space for Indian women, and had placed female education on a sound and solid foundation. [Rachana Chakrovorti]