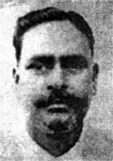 Bhattasali, Nalini Kanta (1888-1947) historian, archaeologist, numismatist, epigraphist and antiquarian, whose contributions have gone a long way in clarifying many obscurities in the history and culture of ancient and medieval Bengal. He was born on 24 January 1888 in a Brahmin family of vikramapura in Munshiganj district. After taking his MA degree in 1912, he joined the comilla victoria college as a teacher in history. Here he came to know different parts of the district and developed a great interest in the history and archaeology of the region, tirelessly exploring and investigating its forgotten past throughout his life.
In July 1914 he joined the newly established Dhaka Museum as its Curator. He remained in its service till his death some 33 years later on 6 February 1947, dedicating his entire life to its development. With singular devotion and energy he transformed this poor provincial collection into an institution of all India reputation. During its formative stage, the Dhaka Museum was inseparable from Bhattasali, whose personal care and attention was essential for its growth and development.
Untiringly, he wandered through the countryside, exploring, discovering, photographing and collecting objects and gathering information, organising excavations and exhibitions, and trying to create local interest and consciousness for the preservation of our cultural heritage.
Years before the university of dhaka came into being (1921), his efforts made the Dhaka Museum a centre of historical studies and research. He wrote reports and research papers on the contribution of important objects to the history and chronology of ancient Bengal. Despite acute financial constraints, which restricted his scholarly activities and personal problems arising from a poor and uncertain pay, Bhattasali never thought of leaving the Museum. A passionate love for the institution sustained his enthusiasm for it till the end.
Even before joining the Museum, he had published original studies and research papers on the history and archaeology of Bengal. Over the year his contributions in these fields grew in volume, range and quality. It must be stated clearly that till his time, Bengal (specially its eastern part) had received scant attention from historians and archaeologists who had an all-India reputation. Bhattasali is, therefore, rightly regarded as a pioneer in these fields of study and research.
Bengal or more correctly, East Bengal (Vanga-Samatata) was Bhattasali's special field of study. By his valuable contributions, extensive explorations and intensive investigations in different neglected areas of this region, he successfully dispelled much of the obscurity and ignorance that had surrounded its early history and civilisation. Among the places that have received his personal attentions, a mention must be made, not only of his birthplace vikramapura, but also deulbari, Chandina-Badkamta, Bharella, Biharmandal, and the ancient remains at Kotbari, on both sides of the Dhaka-Comilla road on the mainamati ridge.
Bhattasali was also closely associated with the discovery of the hitherto unknown Khadga, Chandra, Varman and later-Deva dynasties of Bengal, a number of whose copperplates were fortunately discovered during this time (2nd and 3rd decades of the last century). The records provided valuable clues to the ancient history and civilisation of Bengal. Bhattasali's expert knowledge of early Indian Paleography and Numismatics was of great help in deciphering and interpreting these records. His studies proved definitive on many points.
But he never limited his studies to the pre-Muslim period. He examined very carefully and diligently the Muslim coins in his Museum collection. In course of time he became a recognised expert and authority on Muslim Numismatics. With the evidence supplied by these coins, he wrote the first scientific account of the pre-Mughal Muslim rulers of Bengal, Coins and Chronology of the Early Independent Sultans of Bengal (published from Cambridge in 1922), which till now remains a standard work on the subject. His two catalogues on Muslim Coins in the Dhaka Museum (published in 1936) bear testimony to his continued interest in the subject. His long article, 'Bengal Chiefs Struggle for Independence in the Reigns of Akbar and Jahangir', published in bengal past and present (vols 35, 36 and 38, 1918 - 29) broke fresh grounds on the history of the bara-bhuiyans of Bengal.
Bhattasali's most outstanding contribution, however, was in the field of Hindu and Buddhist iconography, which, till then, was little known and much less studied. He was a pioneer in this field of study. Through his efforts to collect and interpret sculptures for the Museum, he acquired an almost unsurpassable knowledge of the significance and identity of images, greatly reinforced by his in-depth and extensive studies of ancient texts of various religious sects, both Brahmanical and Buddhist ones. His efforts in this field resulted in the publication of his monumental work, Iconography of Buddhist and Brahmanical Sculptures in the Dacca Museum (1929). Despite his very limited means, Bhattasali made strenuous efforts to visit inaccessible parts of Bengal, not only to collect Museum objects and gather information about images, but also to ascertain the identity of place names and verify various historical information recorded in the ancient inscriptions. It was through such untiring efforts that he made kotalipara, Savar, Rampal, Vajrayogini in central vanga and Deulbadi, Badkamta Bharella, Biharmandal, Lalmai-mainamati in samatata and many other such places of historical importance known to scholars.
Though not much known for literary work, Bhattasali has written a few books on Bangla literature. A collection of his short stories, Hasi o Axru (Lough and Tears) was published in 1915 and an edited version of Abdus Sukur Mohammad's Gopi Chander Sannyas was published in 1332 BS. His interest extended to old Bangla literature also and he is regarded as an authority on Bangla paleography. It was mainly through his efforts that the Dhaka University established a cell for collecting Bengali and Sanskrit manuscripts. He received a few prizes and awards for his work, and for several years he taught Bangla Literature, Paleography and History in Dhaka University.
Bhattasali was a stout controversialist and his powerful pen could occasionally be painfully incisive. Bhattasali never yielded from any conclusion he had arrived at, which he thought, was justified. An uncompromising individualism and spirit of independence was a marked trait of his character. He has written extensively both in English and Bangla on history, archaeology, epigraphy, numismatics and art. His research articles were published in leading contemporary journals and periodicals, both at home and abroad. [M Harunur Rashid