Bholahat Upazila (nawabganj district) area 123.52 sq km, located in between 24°48' and 24°58' north latitudes and in between 88°08' and 88°16' east longitudes. It is bounded by west bengal on the north, east and west, shibganj (Nawabganj) and gomastapur upazilas on the south.
Population Total 92149; male 46609, female 45540; Muslim 91394, Hindu 747' and others 8.
Water bodies Main river: mahananda; Bhatia, Vaeoa, Kalan, Amgachhi, Kawbari and Chatra beels are notable.
Administration Bholahat Thana was formed in 1918 and it was turned into an upazila in 1984.
Upazila
Municipality
Union
Mouza
Village
Population
Density (per sq km)
Literacy rate (%)
Urban
Rural
Urban
Rural

-

4

45

93

13103

79046

746

50.1

37.4
Upazila Town

Area (sq km)

Mouza

Population

Density
(per sq km)

Literacy rate (%)

5.07

5

13103

2584

50.1
Union
Name of union and GO code
Area (acre)
Population
Literacy rate (%)
Male
Female

Gohalbari 56

12143

12154

11881

41.35

Jambaria 75

4569

7619

7348

30.41

Daldali 37

8378

13093

13123

38.78

Bholahat 18

5436

13743

13188

42.58
Source Bangladesh Population Census 2001, Bangladesh Bureau of Statistics.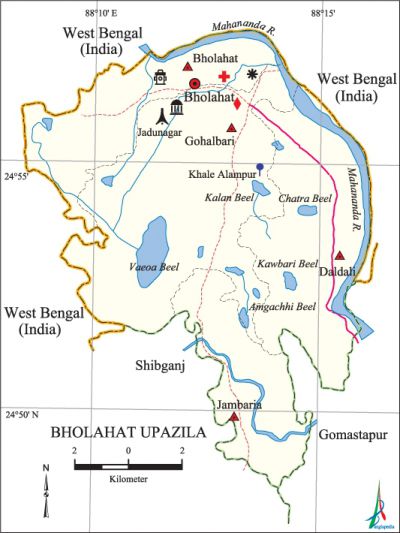 Archaeological heritage and relics Shiva Mandir, Jadunagar Mosque (Mughal period), Gopinathpur 'Mosque and Bazratek Mosque (Sultani period), Mazar of Shahabuddin Shah (R), Mazar of Bara Khan Gazi (R), Triratna Mandir.
Historical events Two Deva statues of Gupta period and copperplate inscriptions on land grant by Dharma Pal was found in this upazila. In November of 1893 then District Magistrate of Maldaha, Umesh Chandra Batball discovered the inscription from Mori Beoa of village Khalimpur of the upazila. An encounter was held between the freedom fighters and the Pak army on 16 October 1971 in which one freedom fighter was killed. The Pak army conducted mass killing and plundering on 9 November at village Jambaria of this upazila.
Marks of War of Liberation Mass killing site 2 (Sathia Bazar and Jadunagar); Mass grave 1 (Jambaria).
Religious institutions Mosque 184, temple 7, tomb 1. Noted religious institutions: Jadunagar Mosque, Gopinathpur Jami Mosque, Jambaria Jami Mosque, Baratek Jami Mosque, Bara Khan Gazi Tomb, Tre ratna Mandir.
Literacy rate and educational institutions Average literacy 39.2%; male 39.7%, female 38.7%. Educational institution: college 4, secondary school 15, primary school 55, madrasa 15. Noted educational institutions: Bholahat Mohebullah Degree College (1986), Bholahat Romeshwar Pilot High School (1911), Mushareevuza High School (1962), Gohalbari Senior Fazil Madrasa (1961).
Newspapers and periodicals Darpan (1994) and Bikash (1999).
Cultural organisations Library 2, club 21, theatre group 1, women's organisation 1, auditorium 1, cinema hall 1.
Main sources of income Agriculture 66.27%, non-agricultural labourer 5.22%, industry 0.58%, commerce 12.62%, transport and communication 1.05%, service 3.63%, construction 0.69%, religious service 0.17%, rent and remittance 0.14% and others 9.63%.
Ownership of agricultural land Landowner 42.25%, landless 57.75%; agricultural landowner: urban 48.12% and rural 41.29%.
Main crops Paddy, wheat, jute, mustard, pulse, sugarcane, vegetables.
Extinct or nearly extinct crops Linseed, aush paddy, kaun, black gram.
Main fruits Mango, jackfruit, litchi, blackberry, palm, coconut, watermelon, plum.
Fisheries, dairies and poultries Fishery 4, dairy 5, poultry 20.
Communication facilities 'Roads: pucca 80.86 km, semi-pacca 12.52, mud road 224.27 km.
Extinct or nearly extinct traditional transport Palanquin, horse carriage.
Noted manufactories Silk mill, rice mill, flour mill.
Cottage industries 'Goldsmith, blacksmith, potteries.
Hats, bazars and fairs Hats and bazars are 14, fairs 3. Gohalbari Hat, Bara Gachhi Hat, Munshiganj Hat (Kanar) and Poladanga Mela, Bahadurganj Mela and Bazratek Mela are notable.
Main exports Silk yarn, mango, vegetables.
Access to electricity All the unions of the upazila are under rural electrification net-work; however, 16.62% dwelling households have access to electricity.
Sources of drinking water Tube-well 87.17%, pond 0.44%, tap 0.52% and others 11.87%. The presence of arsenic has been detected in shallow tube-well of this upazila.
Sanitation 9.25% (urban 22.71% and rural 7.06%) of dwelling households of the upazila use sanitary latrines and 44.08% (urban 49.35% and rural 43.22%) of dwelling households use non-sanitary latrines; 46.67% of households do not have latrine facilities.
Health centres Upazila health complex 1, hospital 1, health and family planning centre 4, charitable dispensary 1, clinic 3.
NGO activities brac, proshika, Manobic Unnayan Sangstha (MAUS). [Mazharul Islam Taru]
References Bangladesh Population Census 2001, Bangladesh Bureau of Statistics; Cultural survey report of Bholahat Upazila 2007.