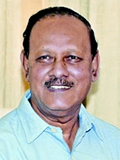 Bhuiyan, Abdul Mannan (1943'2010) politician. Abdul Mannan Bhuiyan was born on 3 January 1943 at village Asad Nagar in Shibpur upazila of Narsingdi district. His father was Abdul Hai Bhuiyan and mother Rahima Begum. Abdul Mannan Bhuiyan passed the Matriculation examination from Shibpur Pilot High School in 1958 and Intermediate in 1960 from Narsingdi College. He obtained his BA (Hons) degree in History in 1964 and MA in 1965 from Dhaka University. Later he completed LLB degree from Dhaka Central Law College.
Abdul Mannan Bhuiyan entered politics in his college life as a member of Student Union, student wing of the then Communist Party. He was elected Social Welfare Secretary of Narsinghdi College Student Union in 1960. He played a vital role in the anti-Ayub movement in 1962 as one of the organisers of the East Pakistan Student Union. Due to his involvement in left-oriented student politics, Mannan Bhuiyan was imprisoned just before his degree examination. In 1964, Bhuiyan was elected organising secretary of Student Union, and two years later became its general secretary.
Mannan Bhuiyan was elected executive member of Dhaka University Central Students' Union (DUCSU) in 1964-65. He was involved in teaching for a brief period in mid 1960s and worked as professor of History at Monohardi College and Shibpur Shaheed Asad College. Around the same time, he joined the National Awami Party (NAP) led by Maulana abdul hamid khan bhasani. He also played a significant role in the mass upsurge in 1969.
During the War of Liberation in 1971, Abdul Mannan Bhuiyan organised the armed resistance in Narsingdi region. He organised thousands of local freedom fighters and announced a vast area including Shibpur of Narsingdi as a 'free zone' and operated from there as a commander.
After the Independence of Bangladesh, Mannan Bhuiyan worked for the farmers' movement of NAP by forming the Krishak Samiti (Farmer's Association) at Narsinghdi. He was general secretary of Krishak Samity for a long time under the leadership of Maulana Bhasani.
In 1976-1977, Bhuiyan moved out of NAP and formed the United People's Party (UPP). He became general secretary of UPP in 1978.
Abdul Mannan Bhuiyan resigned from the UPP in 1979 and subsequently joined Bangladesh Nationalist Party (BNP) in 1980. He was nominated as the convenor of Jatiyatabadi Krishak Dal and also became the agriculture secretary of BNP central committee. In 1988 he was made the party's joint secretary general. Mannan Bhuiyan was also an organiser of the movement against Ershad regime during the 1980s.
Mannan Bhuiyan was elected a member of Jatiya Sangsad in 1991 as a nominee of Bangladesh Nationalist Party from Narsingdi-3 (Shibpur) constituency. He was appointed as state minister in charge of Labour and Manpower in 1991, and then a cabinet minister in charge of Food and Agriculture. In 1996, Mannan Bhuiyan was nominated as the secretary general of BNP. He was elected member of the Jatiya Sangsad in 1996 and again in 2001. He was the Minister of Local Government, Rural Development and Cooperatives in 2001-2006. Bhuiyan served as secretary general of BNP till 3 September 2007.
Abdul Mannan Bhuiyan played a leading role in all pro-democracy movements. As a political activist he struggled long for the emancipation of the country's farmers and workers. Bhuiyan emerged as a politician who worked as a liaison with other political parties.
Abdul Mannan Bhuiyan died on 28 July 2010' in Dhaka. [Urmee Hossain]