Bibi Begni Mosque Less than a quarter mile to the west of the famous shatgumbad mosque at Bagerhat there stands on the bank of the Ghoradighi a gigantic single-domed building, locally known as Bibi Begni Mosque. The mosque has been thoroughly restored and renovated by the [[Department of Archaeology|department|thumbnail|300px|right|of archaeology, Bangladesh.]]
Built entirely of well-burnt bricks. It has four corner towers. Its external measures including the corner towers are 16.15m and internal measures are 10.058m. Its massive walls are 3.048m thick. The mosque pierced with three arched doorways in the east, and one on each of the north and south sides.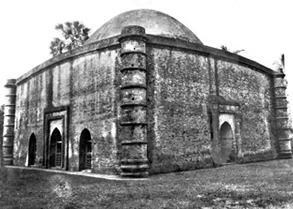 The central doorway in the east has, as is the tradition, been made slightly bigger than the side ones, and is equal in height and width to those on the north and south walls. There are three semi-circular arched-mihrab niches inside the qibla wall. The central one is larger than the rest, having a rectangular projection in the outside direction. This mihrab projection, unlike those of other mosques in the locality, marks a partial departure in its style, since a circular pinnacle bound it on each of its either angles.
The large square hall of the building is roofed over by a hemispherical brick dome, which is carried on half-domed squinches. The solid circular towers on the exterior angles have moulded bases and plain tops. They do not rise above the curved cornice of the roof. Of the terracotta decoration of the mosque, very little now survives in the mihrabs, archways and corner towers. They depict designs such as lozenges, interlocking patterns, rosettes, petalled flowers, and ornamental cusped arches.
The name of the mosque suggests that it belonged to a Bibi Begni, whose identity is obscure. One local tradition ascribes her as one of Khan Jahan's wives, while another makes her a concubine of khan jahan, who erected this building over her grave. But the problem with identifying her clearly is that the building now does not have any trace of a sarcophagus or a grave within. Nevertheless, it is not certain that the building had originally any grave, for no excavation has yet been done in the interior of the building. On the other hand, the building still has three mihrab niches, one of the distinguishing features of mosque architecture. But does the existence of the mihrabs absolutely prove this to be a mosqueFoodgrain Modern researches reveal that a number of tombs in Islamic Persia such as those at Tayyabad, Turuk, the mausoleum of Sultan Oljeitu (1305-13) at Sultaniya, or the Imamzada Duvazda Imam (1336) at Yazd, contain mihrabs. Andre Godard calls this type of tombs 'funnerary mosques'. Similar instances also occurred in India such as the one to be seen in the tomb of Iltutmish (c 1233), the tomb of Ghiyasuddin Tughlaq (1325) and that of his successor Firoz Shah Tughlaq (1388), all in Delhi. Several other tombs of the Sayyid (1414-51) and Lodi periods (1451-1556) and the mausoleum of sher shah (c 1540) at Sasaram also bear this feature. It thus appears from these examples that the possibility of associating this building with a tomb cannot absolutely be ruled out, although it is now well known as a mosque, and is being used for the same purpose. The building reveals in all respects the architectural style of Khan Jahan's age, and may therefore be dated in the mid 15th century. [MA Bari]