Bibi Pari daughter of shaista khan, the Mughal Subahdar of Bengal, who was married to Prince Muhammad Azam, son of Emperor aurangzeb. The achhiyatnama of Shaista Khan, now preserved in the Katra Waqf office of the government of Bangladesh, proves beyond doubt that Bibi Pari, known as Iran Dukht Rahmat Banu, was Shaista Khan's daughter. She was married to Prince Azam on 3 May 1668 with a denmomar (amount of money pledged to be paid to the bride) of Taka one lac eighty thousand. She lived with the prince at Dhaka. A letter preserved in the Ahomburunji contains information about their happy conjugal life and Bibi Pari's influence in the household as well as in the political affairs. The premature death of Bibi Pari in 1684 during Shaista Khan's second tenure as Subahdar was such a shock to the father that he thought the construction of the lalbagh fort to be inauspicious and abandoned it. The construction of the fort was started by Prince Azam in 1678, and was being continued by his successor Shaista Khan. Bibi Pari was buried inside the fort in the ground to the east of the mosque. Shaista Khan built a magnificent tomb on the mortal remains of his daughter.
Tomb of Bibi Pari  is the most impressive among the three surviving buildings within the fort. Square in plan, eight rooms surround a square central room containing the mortal remains of Bibi Pari; one in the south-east corner has a small grave said to be of Shamsad Begum, daughter of Bibi Pari.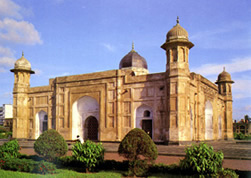 There are octagonal corner towers at the four corners, which are topped by kiosks. The tomb is roofed by setting stone blocks, one above another, a Hindu system of roofing temples. The dome over the central room, octagonal in shape, was wrapped by brass plate, originally with gold guild. The four outer faces are similar: one arched entrance provided inside a lofty alcove within a prominent rectangular fronton having panels in the centre and flanked by smaller arched alcoves on either side, inside which are provided doors with lintel. Like other Mughal buildings in Dhaka the outer surface was plastered.
The entire inner face of the main room is covered by white marble. Four side central rooms are skirted with stone up to a height of one metre, while the corner rooms are simply plastered. Archaeological investigation discovered that beautiful floral glazed tiles skirted these rooms and recently they were restored as per the design of two original tiles left in the north-eastern room. An under ground pipe line seems to have crossed the tomb from north to south and from east to west, probably to connect the fountains in the courtyard outside, one in each side. Lately the southern fountain has been filled to accommodate three graves. [AKM Yakub Hossain and AM Chowdhury]