Biral Upazila (dinajpur district) area 352.16 sq km, located in between 25°31' and 25°46' north latitudes and in between 88°26' and 88°38' east longitudes. It is bounded by bochaganj and kaharole upazilas on the north, dinajpur sadar upazila and west bengal of India on the south, Dinajpur Sadar upazila and punarbhaba river on the east, Bochaganj 'upazila and West Bengal of India on the west.
Population Total 231476; male 119333, female 112143; Muslim 167193, Hindu 60284, Buddhist 1122, Christian 31 and others 2846. Indigenous communities such as santal, oraon, munda, Malo, Mahali belong to this upazila.
Water bodies Punarbhaba and tangon rivers; Nal and Karai beels are notable.
Administration Biral Thana was formed in 1915 and it was turned into an' upazila in 1984.
Upazila
Municipality
Union
Mouza
Village
Population
Density (per sq km)
Literacy rate (%)
Urban
Rural
Urban
Rural

-

10

241

238

7459

224017

657

49.0

38.7
Upazila Town

Area (sq km)

Mouza

Population

Density (per sq km)

Literacy rate (%)

6.10

3

7459

1223

49.0
Ward and Union
Ward and Union
Area (sq km)
Population
Literacy rate (%)
Male
Female

Azimpur 9

7790

9190

8628

37.14

Dharmapur 57

10432

11715

11015

27.51

Dhamair 47

8149

9346

8876

36.46

Farakkabad 66

6688

13362

12386

41.14

Bijora 38

9681

16163

15165

45.07

Biral 28

9376

15640

14780

42.30

Bhandara 19

9628

10945

10301

42.31

Mangalpur 76

7141

9073

8687

39.57

Rani Pukur 85

8532

12039

11357

34.84

Sahargram 95

9607

11860

10948

40.01
Source Bangladesh Population Census 2001, Bangladesh Bureau of Statistics.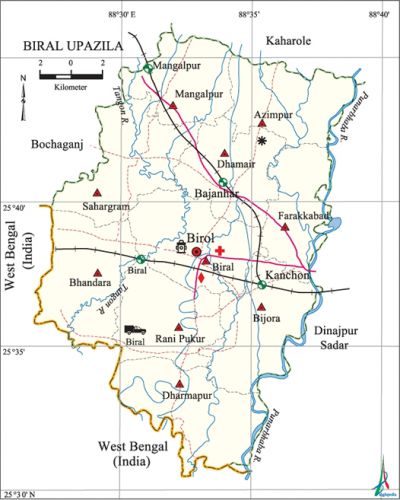 Archaeological heritage and relics Sen Dighi (tank), Mazar of Mulluk Dewan and dighi, Meherabia Jami Mosque.
Historical events santal rebellion was held in this upazila (1855-1856). On 13 November 1971 the Pak army killed 37 innocent persons at Bahala in Bijore union. On 15 December 30 freedom fighters were killed in an encounter with the Pak army at Bagulakhari. Besides, about 100 Pak soldiers were killed in an encounter between the freedom fighters and the Pak army at Bahabal.
Marks of the War of Liberation War of Liberation Museum 1, Mass grave 1.
Religious institutions Mosque 434, temple 82, tomb 4. Noted religious institutions: Meherabya Jami Mosque, Biral Jami Mosque, Munshi Para Jami Mosque, Mulluk Dewan Tomb, Sendighi Kali Mandir.
Literacy rate and educational institutions Average literacy 39.1%; male 45.0% female 32.8%. Educational institutions: college 8, secondary school 48, primary school 157, madrasa 17. Noted educational institutions: Biral Degree College (1972), Biral Girls' College (1994), Dhukurjhari College (1994), Moinul Hasan College (1948), Bijora High School (1940), Uttar Bishnapur VMSC High School (1945), Biral Pilot High School (1994), Munshi Para High School (1960), Karala Madhabati High School (1968), Biral Pilot Girls High School (1977), Kanaibari High School, Mohana-Mangalpur High School, Biral Govt. Primary School, Silver Jubilee MC School, Dewandighi Dakhil Madrasa, Mangalpur Senior Madrasa.
Newspapers and periodicals Biral Barta (Defunct).
Cultural organisations Club 17, library 1,' cinema hall 1, women's organisation 1, playground 8.
Tourist spots Karai Beel.
Main sources of income Agriculture 70.45%, non-agricultural labourer 3.16%, industry 1.03%, commerce 12.01%, transport and communication 2.86%, service 4.46%, construction 1.73%, religious service 0.17%, rent and remittance 0.13% and others 4%.
Ownership of agricultural land Landowner 50.61%, landless 49.39%; agricultural landowner: urban 54.07%' and rural 50.50%.
Main crops Paddy, wheat, corn, sugarcane, potato, sesame, onion, oil seed, vegetables.
Extinct or nearly extinct crops Aush paddy, tobacco, pulse.
Main fruits Mango, banana, jackfruit, litchi, black berry.
Communication facilities Pucca road 132 km, semi pacca road 7 km, mud road 306 km; railways 34 km.
Extinct or nearly extinct traditional transport Palanquin, bullock cart, 'horse carriage.
Noted manufactories Rice mill, flour mill, saw mill, husking machine, ice factory, biscuit factory.
Cottage industries Goldsmith, potteries, blacksmith, woodworks, Bamboo work, cane work.
Hats, bazars and fairs Hats and bazars are 30, fairs 3; Bahbal Hat, Kashidanga Hat, Dhukurjhari Hat, Narabari Hat, Biral Hat, Kaliaganj Hat, Kamdevpur Hat, Chaker Hat, Board Hat; Dhukurjhari and Narabari fairs are notable.
Main exports Litchi, corn, rice, onion.
Access to electricity All the unions of the upazila are under rural electrification net-work; however, 16.01% dwelling households have access to electricity.
Sources of drinking water Tube-well 96.66%, pond 0.09%, tap 0.36% and others 2.89%.
Sanitation 11.13% (urban 24.64% and rural 10.67%) of dwelling households of the upazila use sanitary latrines and 13.77% (urban 23.25% and rural 13.44%) of dwelling households use non-sanitary latrines; 75.10% of households do not have latrine facilities.
Health centres Upazila health complex 1, union health and family planning centre 10, community health centre 13 and Islamic Mission Hospital 1.
Natural disasters Heavy damages to settlements, livestock and crops of the upazila were caused due to floods of 1968 and 1988.
NGO activities brac, asa, caritas, proshika, CDA, Shiksha Foundation. [Md. Mizanur Rahman]
References Bangladesh Population Census 2001, Bangladesh Bureau of Statistics; Cultural survey report of Biral Upazila 2007.