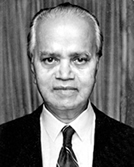 Biswas, Abdur Rahman (1926- ) President of Bangladesh (1991-1996). He was born in the village Shaistabad of Barisal district on 1 September 1926. He received school and college education in his hometown Barisal and obtained BA (Honours) and MA degree in History as well as LLB from the University of Dhaka.
Initially, Abdur Rahman Biswas began his career as chairman of a local cooperative bank. He also took initiatives in spreading education by setting up a string of educational institutions. For his contribution to cooperative movement and various socio-economic activities he got formal recognition by the government as a 'veteram social worker' in 1958.
Abdur Rahman Biswas was elected member of the East Pakistan Legislative Assembly in 1962 and again in 1965. He worked as Parliamentary Secretary of East Pakistan from 1965 to 1969. Abdur Rahman Biswas participated in the 22nd session of the UN General Assembly in 1967. He was elected President of the Barisal Bar Association once in 1974 and again in 1976. He was also elected Chairman of Barisal Municipality in 1977.
In the General Election held in 1979, Abdur Rahman Biswas was elected Member of Parliament. He served as jute minister (1979-80) with President ziaur rahman and as health minister (1981-82) with President justice abdus sattar.
Abdur Rahman Biswas was elected Member of Parliament in February 1991. He was then elected Speaker of the Jatiya Sangsad (The National Assembly) on 4 April 1991. After the reintroduction of the parliamentary system in the country, Abdur Rahman Biswas was elected President on 8 October 1991. While he was President during the period of the caretaker government of Bangladesh, there was a serious army unrest, which he firmly dealt with. Abdur Rahman Biswas completed full tenure of his Presidency that ended on 8 October 1996. [Helal Uddin Ahmed]