Bogra Sadar Upazila (bogra district) area 197.75 sq km, located in between 24°41' and 24°59' north latitudes and in between 89°16' and 89°30' east longitudes. It is bounded by shibganj ( Bogra) upazila on the north, shahjahanpur upazila on the south, gabtali upazila on the east, kahaloo upazila on the west.
Population Total 501494; male 266308, female 235186; Muslim 471474, Hindu 29304, Buddhist 453, Christian 220' and others 43.
Water bodies Main rivers: karatoya, ichamati; Erulia beel, Jabarkandi beel, Fulkot beel, Nurail beel are notable.
Administration Bogra sadar upazila was formed on 1 December 1983.
Upazila
Municipality
Union
Mouza
Village
Population
Density (per sq km)
Literacy rate (%)
Urban
Rural
Urban
Rural

1

11

139

208

210038

291456

2536

71.8

47.94
Municipality

Area (sq km)

Ward

Mahalla

Population

Density
(per sq km)

Literacy rate (%)

10.72

12

46

154807

14441

72.2
Upazila Town

Area (sq km)

Mouza

Population

Density (per sq km)

Literacy rate (%)

2.74

8

55231

20157

70.9
Union
Name of union and GO code
Area (acre)
Population
Literacy rate (%)
Male
Female

Erulia 21

4761

16728

15465

48.24

Gokul 34

3263

13559

12197

47.99

Namuja 60

4172

11203

10681

40.29

Nishindara 64

1466

22705

21103

60.25

Noongola 69

3810

11578

10851

45.46

Fapore 25

3844

15680

14285

56.97

Rajapur 73

2998

10391

9821

40.95

Lahiri Para 47

4537

13064

12016

44.10

Shakharia 82

2413

8560

7989

41.13

Sekherkola 86

3494

6956

6389

48.86

Shabgram 77

9346

21083

19152

53.16
Source  Bangladesh Population Census 2001, Bangladesh Bureau of Statistics.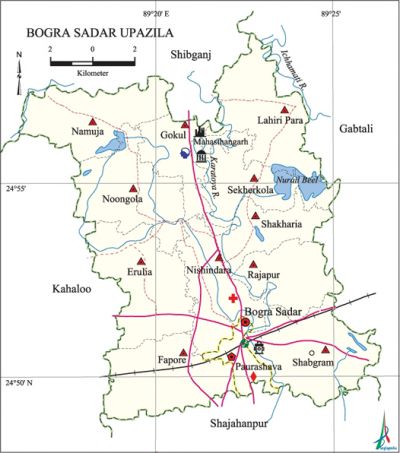 Archaeological heritage and relics Nawab Palace (used as Neelkuthi during the British period), Jaina Temple, house of Sabrul Raja at Anwarpur.
History of the war of liberation On 29 March 1971, the EPR, general people and students of Bogra under Captain Gias, killed 23 Pak soldiers and destroyed 3 military vehicles. In the middle of April 1971 freedom fighters looted about 4 crore taka from the State Bank of Pakistan at Jaleshwaritala of the Bogra Sadar and deposited to the fund of the mujibnagar government to meet the cost of the War of Liberation. Three persons were killed by bombing from Pak air force in Bogra Sadar on 23 April 1971 preceding their entry into Bogra Town with artillery. 20 Pak soldiers and more than 50 civilians were killed in various resistance movements and guerrilla attacks in the Upazila sadar. The Pak army killed 14 freedom fighters at Bibir Pukur; they also killed 9 freedom fighters at Shahidnagar (Char Lokman) and' buried them in a mass grave on the bank of the river Karatoa.
Religious institutions Mosque 677, temple 20, church 2, tomb 3. Noted religious institutions: Bogra Centre Bara Mosque, Coronation School Mosque, Katnarpara Madrasa Mosque, Badurtala Jamil Madrasa Jami Mosque, Park Jami Mosque (Sherpur road), Sat Matha Gohail Road Police Line Jami Mosque, Baitun Nur Jami Mosque (Sherpur Road), Bara Gola Seoujgola Jami Mosque, Modina Jami Mosque (Carmichael road), Kali Tala Hat Satani Mosque, Sutrapur Eid-Gah Mosque, Jaina Mandir, Temple road Kali Mandir, Jaleshshari' Tala Kali Mandir, Fateh Ali Bazar Kali and Gobindo Mandir, Dattabari Kali Mandir, Mazar of Fateh Ali, Mazar of Bhai Paglar (Thanthania), Mazar of Chacha Paglar (Santahar Road), Baptist Mission Church, Sutrapur Catholic Church.
Literacy rate and educational institutions Average literacy 55.5%; male 60%, female 50%. Educational institutions: Law college 1, medical college 1, homeopathy medical college 1, vocational teacher's training institute 1, college 15, primary teacher's training institute 1, nursing training institute 1, polytechnic institute 2, vocational training centre 3, computer training school 5, secondary school 60, primary school 115. Noted educational institutions: Shaheed Ziaur Rahman Medical College (1992), Govt. azizul huq college (1939), Bogra Municipality High School (1844), Bogra Zila School (1854), Katnar Central Girls High School (1892), Bogra Coronation Institute (1911), Govt.Girls Higher Secondary School, Government Mostafabia Alia Madrasa (1925).
Newspapers and Periodicals Daily: Karatoya, Satmatha, Durjoy Bangla, Aaj O Aagamikal, Chadnibazar; defunct daily: Uttaranchal, Uttarbarta, Muktabarta.
Cultural organisations Library 19, club 146,' cinema hall 5.
Turist spots Ruins of the historic mahasthangarh, Vimer Jangle, museum of Nawab Bari Palace, Karu Palli, Wonderland Shishupark (children park), Shanewaz Shishu Bagan, Woodburn Park.
Main sources of income Agriculture 35.09%, non-agricultural labourer 2.79%, industry 2.67%, commerce 20.32%, transport and communication 8.47%, service 16.15%, construction 2.87%, religious service 0.18%, rent and remittance 0.69% and others 10.77%.
Main crops Paddy, jute, potato, corn, mustard, vegetables.
Extinct or nearly extinct crops Betel.
Main fruits Mango, jack fruit, litchi, banana.
Extinct or nearly extinct traditional transport Bullock cart.
Manufactories Garments industry, leather industry, tobacco industry, textile mills, iron and steel factory, spare parts and machineries factory, match factory, hrricane (lantern) factory, food and beverage factory cold sorage.
Cottage industries Goldsmith, weaving, tailoring, wood work, bamboo work, cane work.
Hats, bazars and fairs Hats and bazars are 61, fairs 7. Kalitala Hat, Sabgram Hat, Sultanganj Hat, Noongola Hat and Barune fair, Karbela fair are notable.
Main exports Banana, potato.
Health centres Hospital 21, missionary hospital 1, diabetic hospital 1, charitable dispensary 1, satellite clinic 5, maternity and child clinic11, clinic 101, chest diseases clinic 1,' school health clinic 1.
NGO activities brac, asa, World Vission, thengamara mahila sabuj sangha. [Shagata Chawdhury]
References Bangladesh Population Census 2001, Bangladesh Bureau of Statistics; Cultural survey report of Bogra Sadar Upazila 2007.