Brajamohan College originated from Brajamohan School which was established in barisal in 1884. romesh chandra dutt, then district magistrate of Barisal, motivated aswini kumar datta to establish the school. It was named after his father Brajamohan Dutta. The school started functioning as a second grade college with the introduction of F A classes in 1889. In 1898, it was upgraded to a first grade degree college. Ganendranath Roychowdhury was appointed the first principal of the upgraded college.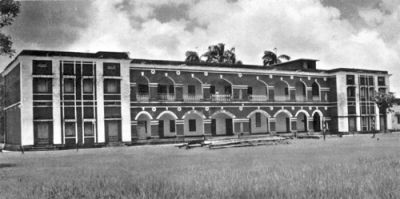 Due to Aswini Kumar's involvement in swadeshi movement and alleged large-scale involvement of the college students and staff in the anti-British agitation, the BM College lost government grants for sometime. In 1912, the college authorities came to terms with the government and consequently, the college began to operate smoothly as before. In 1912, the owners of the college surrendered the property title by a deed and delegated the management of the college to a Council of Trustees. But Aswini Kumar remained in the helm of affairs of the college.
The college campus developed on fifty bighas of land whereon were built academic buildings, dormitories, playgrounds and other infrastructure. In 1917, the college campus was shifted to its present site on 126 bighas of land. The college faced problems once again because of the partition of bengal, 1947 and the communal riots (1950). About two-thirds of its students and teachers migrated to India. The two-year and three-year Honours courses were suspended. The college, however, continued to survive as a degree (pass) college and later, the conditions of the college gradually improved. It reintroduced Honours course in Economics with only 15 students in the 1964-65 session. The college was nationalised on 1 July 1965. It was made a university college in 1993 and subsequently, it stopped offering intermediate level courses.
After 1972, the government of Bangladesh decided to decentralise higher education and in the 1972-73 session, Honours courses in Bangla, Political Science, Islamic History, Physics, Chemistry, Accounting and Management were introduced in the college in the light of the new policy. Masters courses in Bangla, Economics, History and Chemistry were also introduced in the same year. Masters courses in all other Honours subjects were introduced in 1985. In 2001, the college offered Honours courses in 18 subjects and Masters courses in 16 subjects; it had 147 teachers and 21,215 students. The college campus has 1 Commerce Building, 2 Arts Buildings, 4 Science Buildings, 3 playgrounds and two beautiful ponds. It has 3 hostels for boys (Muslim Hostel, Mahatma Aswini Kumar Hostel, Kabi Jibanananda Das Hindu Hostel) and one for girls (Banamali Ganguli Hostel). The central library of the college has a collection of about 40,000 books. [Md Tuhin Molla]