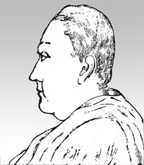 Chakravarty, Biharilal (1835-1894) a pioneer of modern Bangla lyrical poetry and the poetic guru of rabindranath tagore, was born in Kolkata on 21 May 1835. His forefathers originally lived at Farashdanga and their original family name was 'Chattopadhyay'.
Biharilal had little formal education, but was able to acquire considerable knowledge of Sanskrit, English and Bangla literatures. He began writing poems early in life. Although there was a tradition of lyrical poetry in Bangla, Biharilal modified its traditional form and transformed it into a medium that could express deep feelings. In this endeavour he was greatly influenced by Sanskrit and English literatures. Though his lyrics have been influenced by both eastern and western poets, his own style prevailed unmistakably.
Biharilal introduced an interest in the self in place of interest in material things. He was the first to explore the depths of a poet's soul in Bangla poetry. His lyrics give a romantic view of nature in musical and simple language. Biharilal used a vocabulary composed of Sanskrit words as well as Bangla derivatives. His choice of poetic themes, individuality of expression, and acuteness of perception, as well as his focus on beauty and his unique use of rhythm distinguish him from others.
Biharilal's well-known works include Svapnadarshan (1858), Sabgitshatak (1862), Bandhubiyog (1870), Premprabahini (1870), Nisargasandarshan (1870), Babgasundari (1870), Saradamabgal (1879), Mayadevi (1882), Devarani (1882), Baulbingshati (1887), Nisargasabgit (1881), Sadher Asan (1888-89) and Dhumketu (1899). In Nisargasandarshan, Biharilal described the natural landscape of Bengal in vivid images and lively rhythms. In Babgasundari he portrayed the Bengali housewife as a symbol of beauty. Saradamabgal is Biharilal's finest work and considerably influenced Babgali lyricists of the 19th century, including Rabindranath who described Biharilal as the 'bird of dawn'.
Alongside his poetical work, Biharilal also edited journals such as Purnima, Sahitya-Sangkranti and Abodhbandhu, in which many of his poems appeared. His writings also appeared in bharati, somprakash, Kalpana. Biharilal died on 24 May 1894. The street on which his Calcutta house stood was renamed 'Biharilal Chakravarty Street' in his honour. [Md Masud Parvez]