Chaudhuri, Mofazzal Haider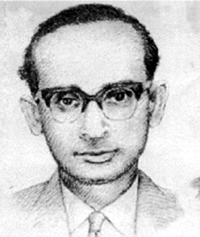 Chaudhuri, Mofazzal Haider (1926-1971) educationist, essayist. martyr in the war of liberation. He was born in the village of Khalishpur in noakhali district on 23 July 1926, son of Bazlur Rahim Chaudhuri and Mahfuza Khatun.
Mofazzal Haider Chaudhuri lost his father early in life and was brought up by his maternal uncle. He was a brilliant student and did well at public examinations, securing fourth place in the Entrance examination held in 1942 under calcutta university and first place in the Higher Secondary examination from dhaka college in 1944. In 1946 he passed BA (Hons) in Bangla Language and Literature from Calcutta University and MA in 1953 from dhaka university, standing first class first in both examinations.
Mofazzal Haider Chaudhuri began his career in 1948 as a scriptwriter of Dhaka Radio. He then joined jagannath college, Dhaka. He was also part-time faculty at notre dame college. He joined Dhaka University in 1955. In 1958 he went to London for higher studies in phonetics. On his return, he was promoted to reader.
Mofazzal Haider Chaudhuri was a reputed scholar, with several academic books to his credit, among them, Rabi Parikrama (1963), on the life and work of rabindranath tagore. Many of his writings focus on Bangla Language and literature: Some Supra-Segmental Phonological Features of Bengali (1959), Bangla Banan O Lipi Sangskar (1962), Colloquial Bengali (1963), Rabin Akhar (1963), and Sahityer Naba Rupayan (1969). He also wrote poems, stories and plays. In 1971 he was honoured with the Bangla Academy Prize.
Mofazzal Haider Chaudhuri was picked up by anti-liberation forces on 14 December in 1971 and killed. [Aminur Rahman]