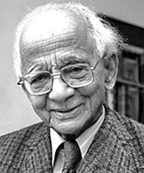 Chaudhuri, Nirad C (1897-1999) journalist, author, scholar. His full name is Nirad Chandra Chaudhuri, but he is popularly known as Nirad C Chaudhuri. After completing his education from calcutta university, Nirad C Chaudhuri started his career as a government servant. In 1942 he shifted to New Delhi to work as a broadcaster and political commentator at All India Radio. A close associate of Netaji subhas chandra bose, Nirad Chaudhuri served as secretary to sarat chandra bose for some time during his stay in Calcutta. In 1951 he published The Autobiography of an Unknown Indian, his first book and the book by which he is best known.
Chaudhuri dedicated The Autobiography of an Unknown Indian to 'the memory of the British Empire in India, which conferred subjecthood upon us, but withheld citizenship: to which yet every one of us threw out the challenge: 'Civis Britannicus sum' (I am a British citizen) because all that was good and living within us was made, shaped and quickened by the same British rule'. The sympathy and admiration for the British contained in the book made Chaudhuri controversial in India. Soon after the book appeared, Chaudhuri was sacked from his position in All India Radio.
In 1955, Chaudhuri was invited to England by the British Council and the BBC. The five-week trip produced A Passage to England in which he praised the British way of life and western culture. From 1970, he settled in Oxford, England and lived there until death.
Much of Chaudhuri's writing was more or less a deliberate attempt to undermine Indian nationalists. His work was first roundly abused, then ignored by Indian critics and readers. Critics called him the last British loyalist. But Chaudhuri said his backhanded criticism of the British was never understood by his countrymen. In 1997, his British publishers reprinted the Autobiography, still calling it one of the great books of the 20th century and deleting its quixotic dedication to the memory of the British Empire.
For all his failings, Nirad Chaudhuri was a superb writer of exact and precise descriptive prose. The first few chapters of the Autobiography, which describe his upbringing in rural Bengal at the turn of the century under British rule, provide a lively, insightful description and commentary on Bengali customs, family structures, and caste, as well as the relations between Hindus and Muslims and between the Indians and the British. At the age of 90 Chaudhuri wrote a second autobiography entitled Thy Hand, Great Anarch. In 1997 he wrote his last book of essays: Three Horsemen of the New Apocalypse, which was an indictment of what he called India's failed leadership and a lament at the decline of the country he had adopted. Chaudhuri published his first Bangla book, Babgali Jibane Ramani (Women in Bengali Life) in 1968.
Nirad Chaudhuri received many literary awards and prizes, including the Duff Couper Memorial Award (1965), the Ananda Award (1989), the Vidyasagar Award (1997) etc. Oxford University honoured him with an honorary DLitt degree in 1989. After his death in Oxford at the age of 102, his son, who is a renouned economic historian, gifted Chaudhuri's books and paintings to Calcutta Club which has opened a Nirad C Chaudhuri Corner in his honour. [Syeda Momtaz Sheren]